Detailed reviews on top list of what to do in Moc Chau, Son La Vietnam
With the dominance in location, Moc Chau attracts thousands of tourists to visit every year for its nice weather and atmosphere, together with the charming scenery of flower paradises, tea hills and dairy farms... The article will show you the detailed information on what to do in Moc Chau for a perfect journey.
I. Where is Moc Chau Vietnam ?
Moc Chau Vietnam
is indeed a mountainous district in Son La province, Northern Vietnam. The highland is 180 kilometers far from Hanoi Capital City with an area of  1.081,66 square meters. Moc Chau has four separated seasons but is most typical for the high plateau-moderate climate. The average temperature is about 18-20ºC. 
Besides the dominance in climate, it is also famous for a diverse ecosystem, especially the nice scenery of flower garden and grass field steppes. Some famous attractions recommended include
Dai Yem Waterfall, Pha Luong Peak, Ang Village, peach gardens, plum gardens,... Nowadays, Moc Chau is one of the most famous destinations in Northern Vietnam attracting thousands of tourists visiting every year. 
II. Best time to visit Moc Chau
If you choose Moc Chau to enjoy relaxing moments in nice weather, you can visit the place at any season around the year. However, there is some specific time for you to admire more spots than usual:
Before and after Vietnam Lunar New Year, it is the time of peach and plum blossom.
March is time to admire Ban flower, a type of white-spotted flowers typical for the land. Moreover, there is Het Cha Festival on March 26th.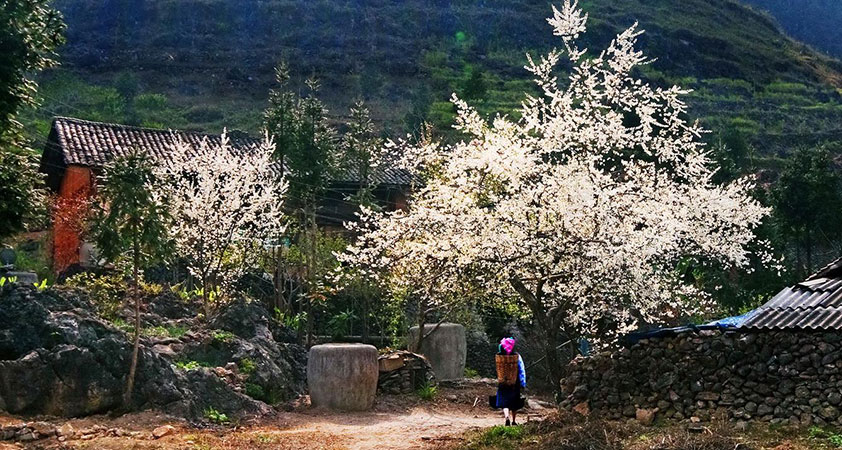 In early September, join Independence Day with Muong ethnic minority.
In November, white rape flowers cover all the hills
In December, you can see wild sunflowers alongside all the roads in this land.
From April to August, the climate is much cooler than Hanoi Capital and delta areas. It is also time to collect peach and plum fruits on these hills.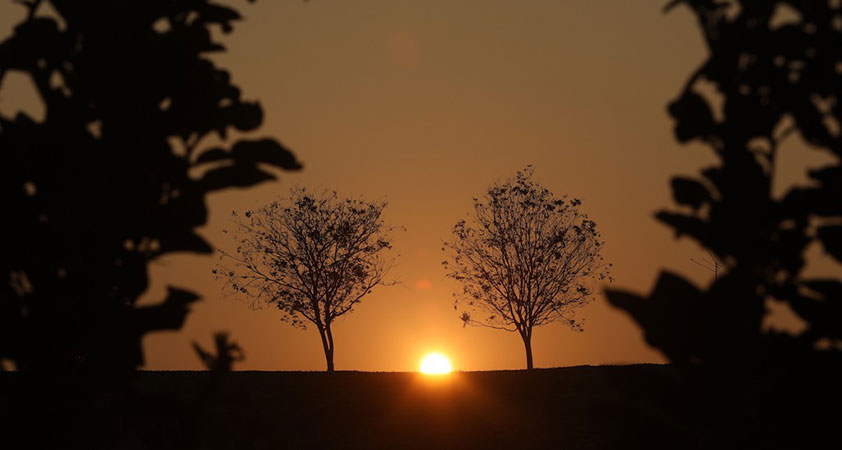 Amazing deal:

Experience 7 days Vietnam classic tour at the cheapest price ever.
III. How to get to Moc Chau from Hanoi ?
It is up to you to move by motorbike or coach car. There are a lot of nice spots to admire alongside the road to the attraction. Therefore, it is an amazing experience if you hire a motorbike to travel by yourself. However, Vietnamese transportation is very complex and you had better have a tourism agency to arrange the itinerary for you. 
Otherwise, you can move to My Dinh Coach Station in Hanoi Capital City and take a ticket to the destination. The price is about 150000 VND per ticket.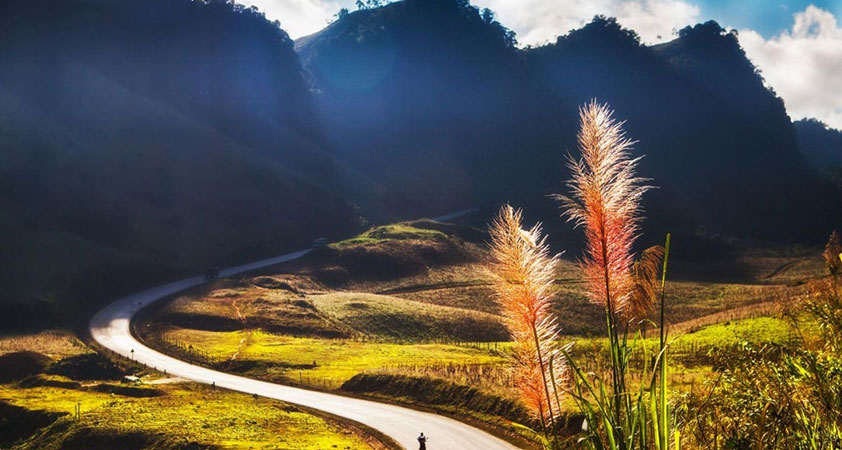 IV. Top attractions in Moc Chau

1. Moc Chau Plateau - A green paradise at the height of 1050 meters
Moc Chau plateau
is at a height of 1050 meters above the sea level. It is the home of Thai and Mong ethnic minorities in Vietnam. In September, Mong people from all over Northern Vietnam will gather there and turn the land into an exciting festival.
The climate is one of the most specific tourism resources of the land. It is cool and fresh at any season but changes gradually in a day. However, fields of white rape flowers blossom around the year, while you can only visit some specific flowers in a season. Besides the charming scenery, tourists will have the chance to taste some specialties showing the cooking talents of local women in the area.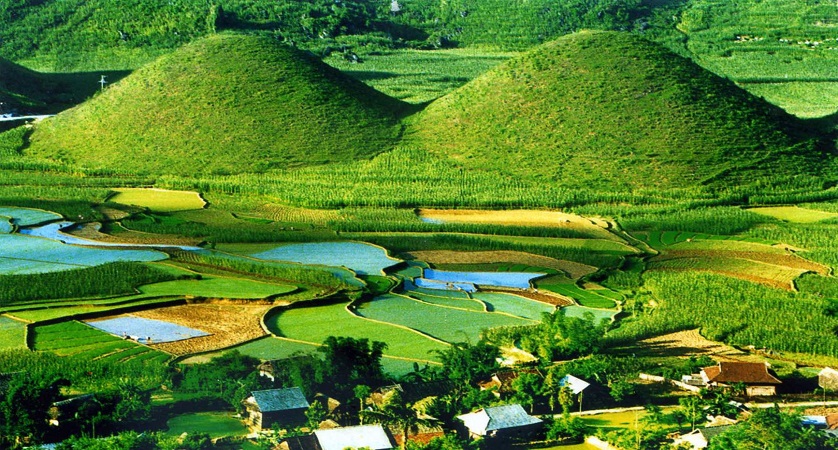 2. Ba Phach Village - White rape flowers cover all the land
Ba Phach is also called
Pa Phach
, a village in
Dong Sang Commune
in Western Moc Chau District. It is divided into three smaller ones 1, 2, 3. It is the home of Thai and Mong Xanh ethnic minorities. Located 5 kilometers far from the center of Moc Chau town, it perches high on the mountainside and surrounded by two great limestone ranges and dense primitive forests.
The road to
Ba Phach Village
is quite challenging. You have to go through cliffy slopes. However, it is worth to capture the overall beauty of the green valley below from the peak. Roads on the village winds through green cornfields and small houses hidden in plum and peace gardens. You will learn about the daily life of the locals in the village. How difficult their condition is is also your motivation to love your current life and raise your love with strange people you have seen once. 

 Discover more: Adventurous journey with Vietnam 12 day tour through Northwestern Vietnam.

3. Pine Forest in Ang Village - Relaxing moment in a charming scenery
Ang Village
is not only famous for the nice and fresh weather and the poetic scenery in Moc Chau but also known for its specific resources of Thai ethnic minority's culture.
From above, the place looks like a painting picture with groups of stilt houses under the forests. There is also a natural lake at an area of 5 hectares surrounded by a green pine forest. Looking toward far distance, you can see Moc Chau Plateau, especially in spring, with green tea hills, grass fields, flowers in full colors.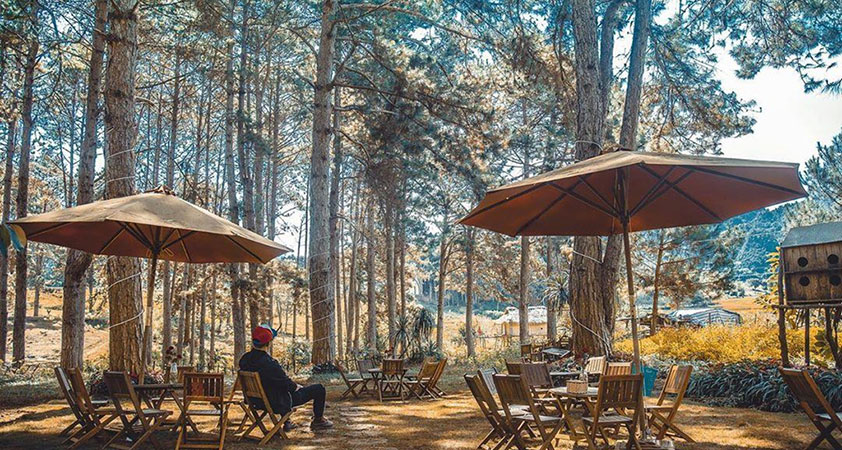 Spend time to walk around the lake and take some fresh breezes that you can hardly enjoy in noisy cities. Moreover, discover the pine forest have nice check-in photos for the journey. It is great for couples to hire a tandem bike to enjoy the sunset. The perfect combination of modern and wild features will certainly have nice memories of the attraction.
4. Dai Yem Waterfall - How majestic it is among green peaceful surroundings
Dai Yem Waterfall
has another name Nang or Ban Vat. It is in Muong Sang Commune, Moc Chau. The fierce sound of water flows from the high mountain making the attraction majestic and mysterious, completely different from the quiet scenery surrounding. If you come here in summer, do not hesitate to immerse in the cool fresh water in the lake.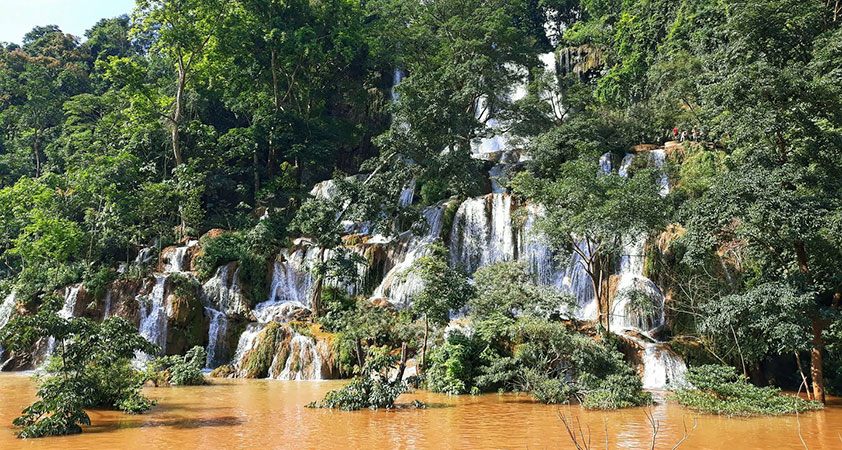 The waterfall is divided into two main parts. The higher is 70 meters wide, and the other one is 150 meters lower. The total length is 100 meters. There is a space between the two parts for tourists to admire the scenery. Moreover, the vegetation on the peak is quite diverse. The best time to admire the attraction is from April to September. 
5. Pha Luong Peak - Challenge yourself and capture the huge landscape from above
Pa Luong Peak has another nam Bo Lung, which means "a great mountain" in Thai ethnic minority's language. With a height of 2000 meters, it is also known as the rooftop of Moc Chau, located in Tan Xuan Commune in the Vietnam - Laos border areas. On the peak, there is a large flat land at an area of 10 hectares where tourists can have a camping party of hold group participation games.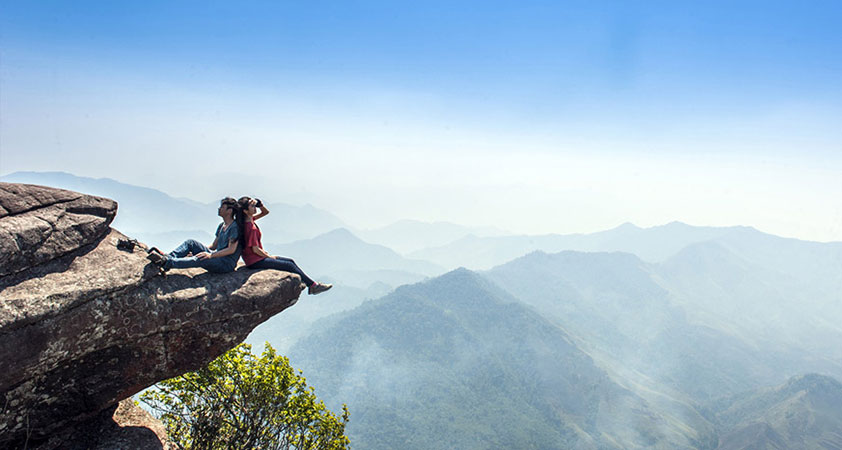 However, due to security safety, you are not allowed to overnight there. Moreover, if you would like to have a trekking tour to the peak, you have to get permission from the authority and ask for a direction guide from locals. Therefore, you had better have a tourist agency to arrange the itinerary for you. 
6. Green Tea Hills - Immerse in the endless green color of tea fields
Moc Chau is famous for its endless green tea hills, from which the tea specialty of Vietnam is well-known all over the world. Tea is grown here and there and interspersed with nice small houses. Only ranges of eglantine and confetti are outstanding in this green background. In the early morning, the hills are covered with thin layers of dew, making the attraction more impressive and dreamy.
The heart-shaped tea hills are one of the most attractive among tea hills of different shapes such as S-shaped, wave-shaped,... ones. It is located along the road to Ngu Dong Ban On. The hills represent life and love, attracting thousands of tourists come to check-in and enjoy the fresh atmosphere.
7. Na Ka Plum Valley - The simple attractiveness but nowhere else has
Na Ka Village recently outstands among tourists with a valley full of plum blossoms listed on the top beautiful plum valley in Northern Vietnam.
Located only 6 kilometers far from the hills of heart tea, Na Ka Plum Valley is in Tan Lap Commune. To reach the destination, tourists will have to travel on a tight and quite challenging pass. However, what you see in the attraction is worth the experience. From the peak of the pass, you can look toward the valley in pure white. Plum blossoms cover through all the valley, on cliffs or on small hills,...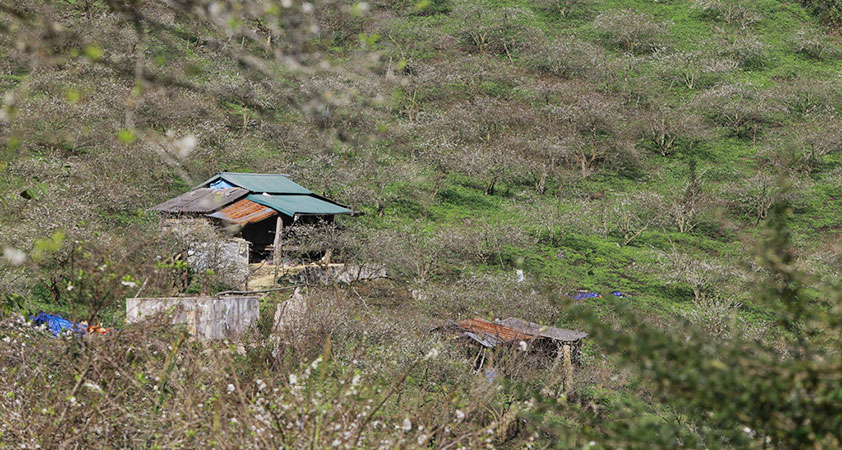 Ngu Dong Ban On is indeed a cave complex deep in the canyons in On Village and separated from the outside. The road to the attraction is quite challenging, so it still keeps its own originally wild beauty.
The cave complex consists of four main caves located on a hill and one another on the nearby hill. It attracts tourists with thousands of stalactites in different shapes and sizes established through thousands of years. And the third cave is the largest and deepest one. 


9. Son Moc Huong Cave - Magic construction set up for thousand years
Son Moc Huong Cave has another name Bat Cave (Hang Doi in Vietnamese). It has a total area of 1915 square meters. The road to the mouth is winding and charming with the view of the green scenery surrounding. When you enter the cave, you can see a magic construction of natural stalactites.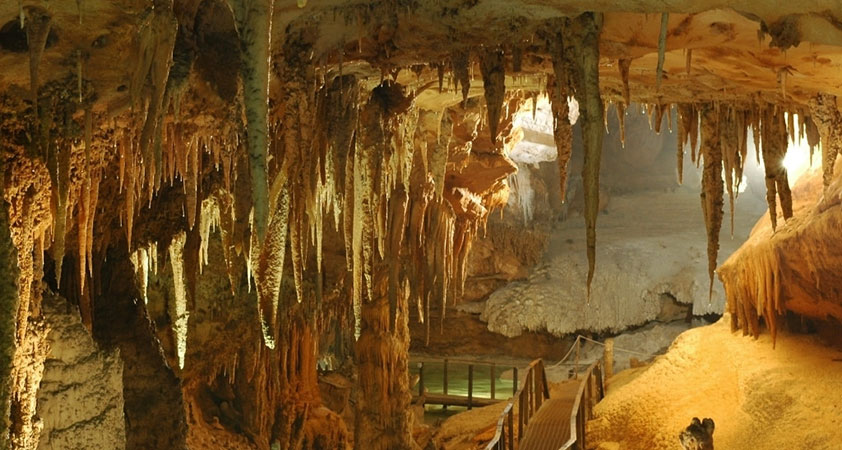 10. Moc Chau Happy Land - Live healthy and well-balanced days among nature 
Moc Chau Happy Land is indeed a park known for the best beautiful flower garden in the area. There is a wide range of kinds of flowers and they blossom all over the year. The park is in Lun Village, Muong Sang Commune, Moc Chau. It is designed in the heart shape in an area of five hectares.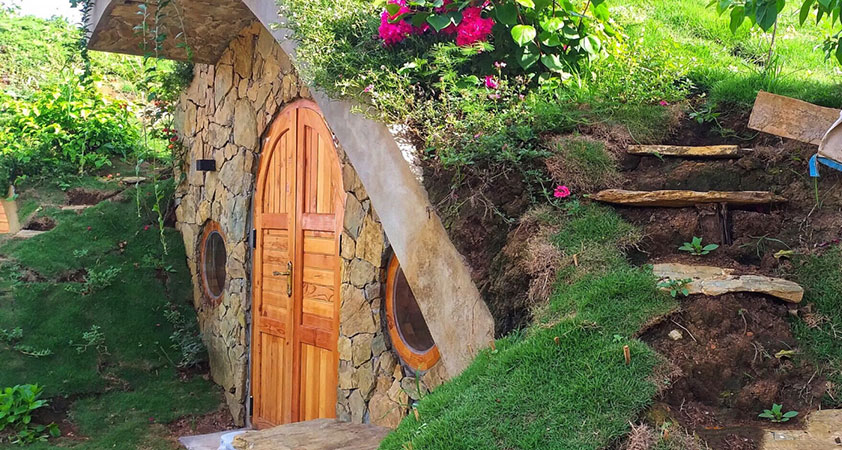 Recently, services of food and drink, as well as entertainment, have been developed to meet tourists' demands. Homestays are also set up for tourists such as container home, bungalow, Bo house,... The price for entrance as well as services is not high even in peak seasons.

11. Strawberry Garden - Enjoy the special flavor of local strawberry on-site
Moc Chau has a suitable climate for strawberry development. Therefore, it has been tried on the land and quickly becomes popular there. The products have a nice taste but the price is not too high. There are a lot of gardens which have opened for tourists to visit and enjoy the products in person.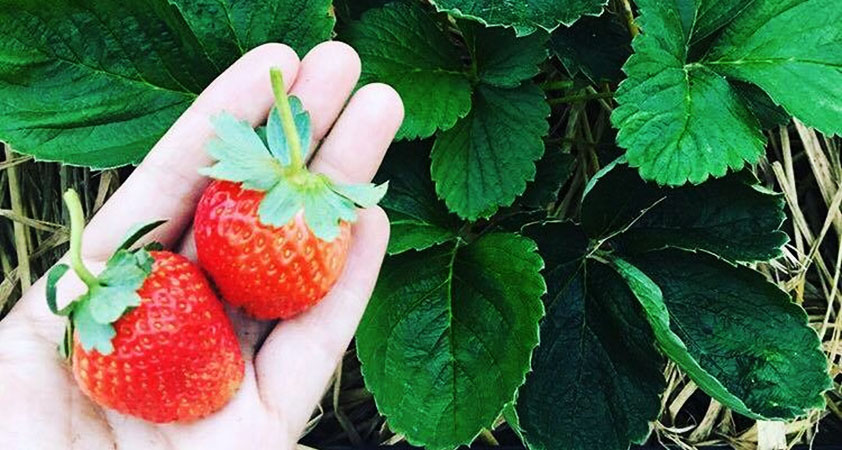 One of the most famous spots is
Chimi garden
in the
pine forest in Ang Village
. It is known for its Japanese strawberry, also the largest garden in Vietnam. More impressively, it is located beside the charming pine forest. Moreover, the owner pays much attention to tourist experience and has turned it into a perfect check-in corner. 
12. Dairy Farm - Trang Trai Bo Sua - A day turning into a farmer on the land
Located on 168 Hoang Quoc Viet Street, Nong Truong Town, the Dairy Farm represents for high-qualified technology of milk-product making. Tourists will learn about the procedure and also take part in real experience. Especially, tourists will milk the cow in person and enjoy it after that.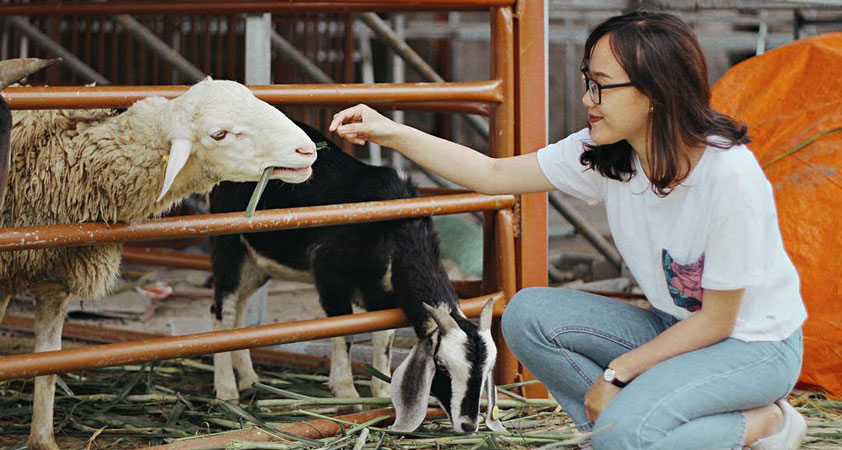 Moreover, there are fields of white rape flowers, sunflowers, strawberry, tea and others in different colors. With check-in lovers, all the corners on the farm can be a perfect background for your photos. Especially, you are recommended to visit the attraction in November and December when rape flowers fill the land with endless pure white color.
13. S-shaped Road - Let the charming roadway heals your heart
The road is near Long Luong Commune, Van Hoa District, Son La Province. On the journey to Moc Chau, tourists will certainly amazed at the charming scenery alongside this road. It is in a valley surrounded by green color of hills, mountains and plants. Although it winds in S-shape not as challenging and dangerous as some others in the same way. 
V. Moc Chau accommodation
1. Happy Land Homestay
There are also areas of homestay in Happy Land. They have been facilitated to provide all the convenience for tourists when they visit the place. To satisfy tourists' chilling feelings, many unique homestays have been set up. Come to check-in with nice corners overwhelming among the paradise of green tea and colorful flowers. 

2. Bo House
Bo House is located in Nong Truong Town, Moc Chau. The simple and cute design brings about a comfortable feeling when you first set foot on the homestay. In other words, the house creates a cozy atmosphere like you are at home. Especially, the price for this experience is affordable for most of the tourists.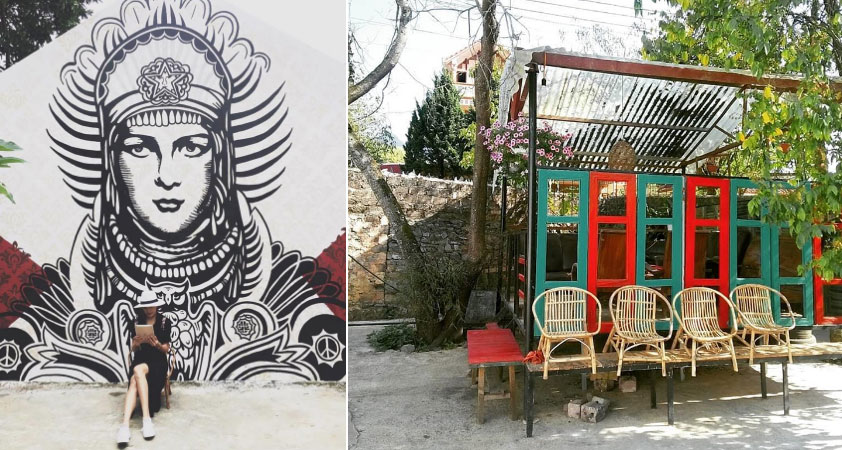 3. Moc Chau Arena Village
Adress: Km122/180, National Roadway No.6, Chieng Di, Moc Chau.
The hotel is also in Nong Truong Town, just five kilometers far from the center of the town and easy for tourists to access other attractions such as Doi Cave, Dai Yem Waterfall, pine forest in Ang Village,...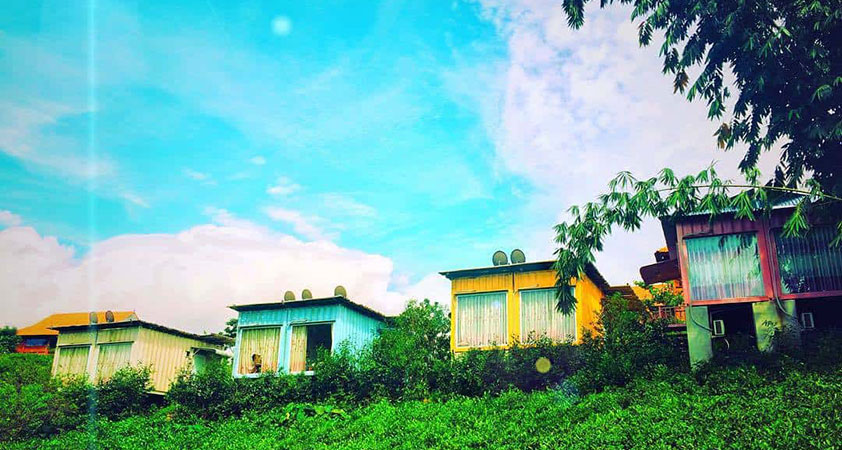 There are two main areas including container houses and stilt houses with a view toward tea hills and plum gardens. Besides the convenience, tourists can take the chance to try to be a farmer on the hills.
4. Muong Thanh Luxury
Address: Km72, National Roadway No.43, Moc Chau.
The hotel is located on the roadway from Hanoi to Northwest Vietnam in Moc Chau town. It is really a perfect relaxing destination for you to enjoy every moment besides family and friends. 
It has been designed with the inspiration of European style. With the majestic appearance, the hotel is outstanding among the landscape of mountains and trees. There are 169 five-star rated rooms available for your demands.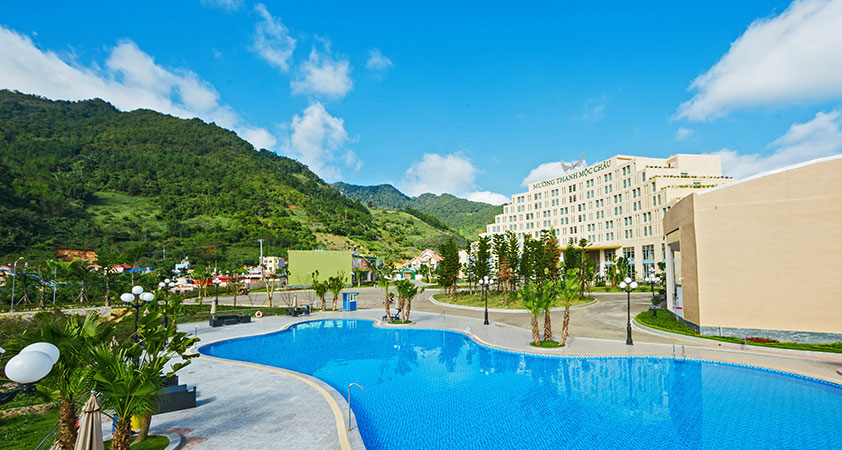 VI. What to eat in Moc Chau ?

1. Buffalo meat hanging up the kitchen
It is made by Thai ethnic minority women in Mai Chau. Instead of normal recipes, it will be smoke in embers, then dried by hanging up the kitchen to reserve for a long time. This complex procedure makes it on the top list of
what to do in Mai Chau
.

2. Bang Stream rocky snails (Oc da Suoi Bang)
Snails in Bang Stream is a favorite specialty thanks to its unique flavor that is completely different from the usual dish you have enjoyed. They are included in many recipes but always keep their original flavor.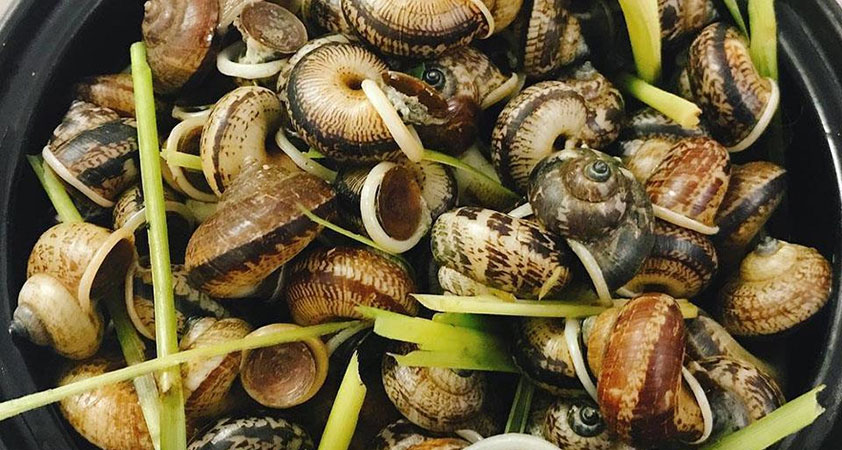 3. Roasted stream fish
The fish in local streams is not big, but it is certainly has a unique flavor that you can find nowhere in any city. It is dried right after caught so the meat is very fresh without sickliness.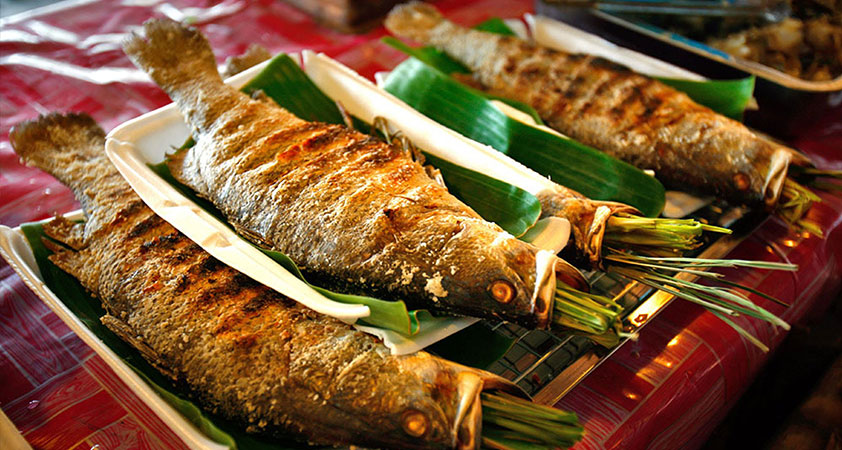 4. Plums and other fruits
If you visit the place from April every year, your eyes will be satisfied with plums and peaches turn red and cover all the land. You can pick it alongside the road, on any spots in the area. The fruits have grown up naturally and therefore, they are not only fresh but also safe for your health.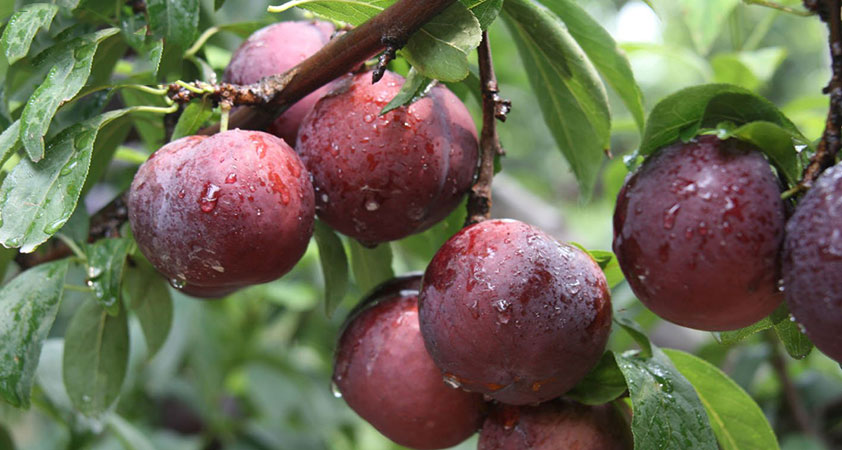 With our information, you will certainly have a nice journey to the Moc Chau, Son La, Vietnam. If there are any concerns, contact us to have the best recommendation.
ONLY WITH US : 100 % MONEY BACK GUARANTEE within 10 days from the date of booking if not satisfied.
For further information, or simply a free quote, please
contact us
at any time via our email:
info@galatourist.com
, our experienced consultants will reply to you within 48 hours.
Sincerely yours & see you soon!
GALATOURIST
since 2005.