What to see and do in Moc Chau Plateau, Son La Province, Vietnam
Together with the cool weather around the year, Moc Chau attracts thousands of tourists to visit every year with its fresh green hills of grass. It is also the plateau providing a large number of milk products all over the country and even exported to others. Read the article to learn why Moc Chau Plateau becomes a favorite destination all year.
I. Moc Chau Plateau Introduction
The attraction is typical for features of
Moc Chau
Son La
. It is at a height of 1050 meters high above the water level with 1600 hectares of grass fields. Therefore, the typical cool and fresh air of
Moc Chau Plateau
has become a valuable tourism resource in the area.
Moreover, the beauty of the land changes through seasons on the background of tea hills. White clouds float on blue sky, thin layers of dew reflect sunlight above, all make the attraction more magical.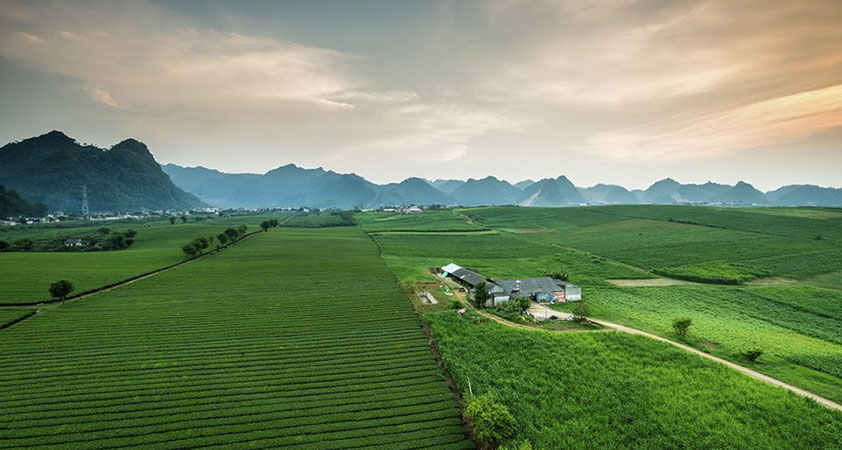 II. What to see in Moc Chau Plateau ?
1. Admire grass fields
At the center of the plateau, there is a specific zone that is cool in summer, at about 20 degrees, and warmer and drier than others in winter. In the dry season, it is nice to enjoy the atmosphere among temperate denuded pastures. Otherwise, in spring or fall, tourists will have the chance to admire endless fresh grass hills and come close to nature with their gentle flavor.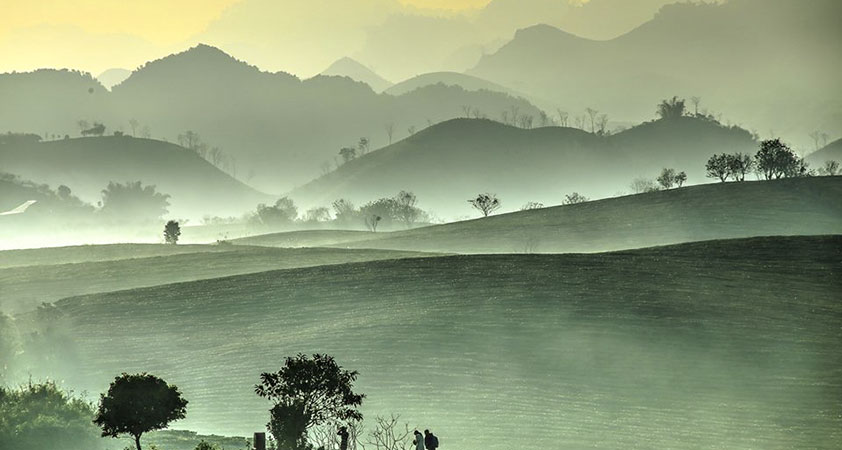 An attractive itinerary:

 Vietnam tour 8 days along the country from Saigon to Hanoi

2. Collect fruits on-site
In summer, these white paradise of plum and peach blossoms starts to turn into red appetizing all the tourists visiting the land. You will be allowed to experience picking these fruits on-site and enjoy this sweet taste. The typical flavor spread out a large area, refreshing your mind after a long journey. Moreover, birds singing on these branches contributing more to the charm of the spots.  These garden seem a little fruitful than ones leading to
Ngu Dong Ban On
attraction.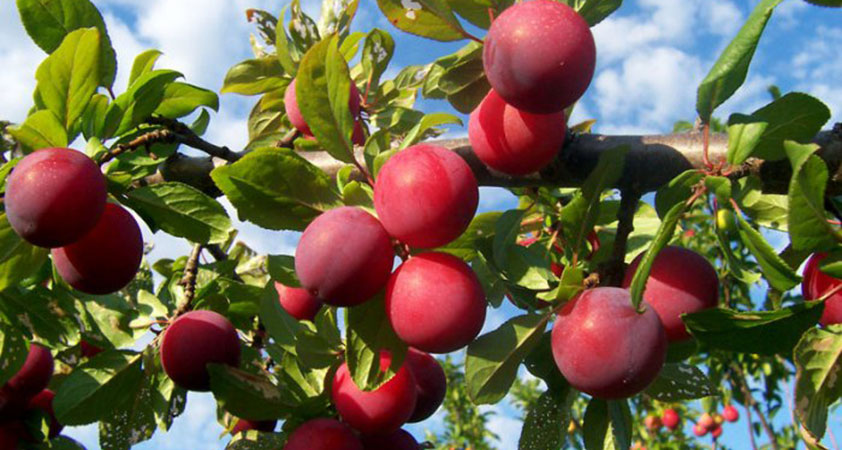 3. Turn into a farmer on daisy farms
A lot of dairy farms not only provide healthy milk products but also develops tourist experience with many activities on these farms. Tourists will feed the cows by yourselves, milk the cows and then drink pure fresh milk. Besides, you even sleep overnight on the camps on the grass fields. These activities, according to reviews, deserve to be included in the top list of
what to do in Moc Chau
. Do not forget to bring home some gifts of milk from the farms.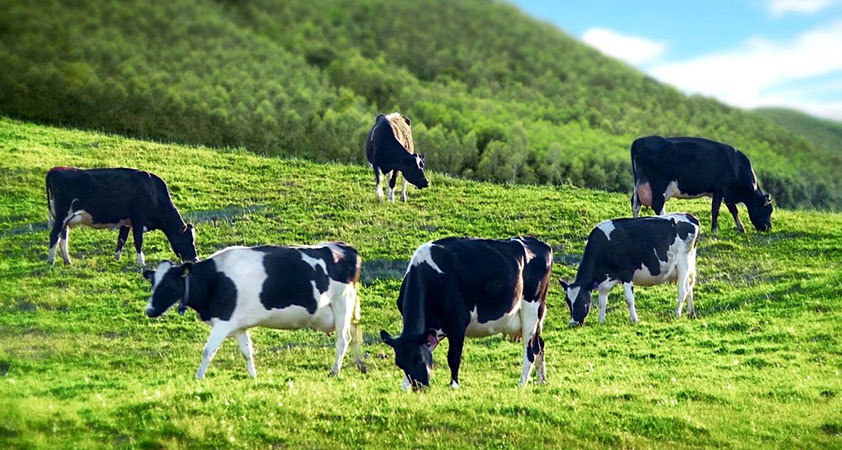 4. Check-in with fresh tea hills
Moc Chau Plateau Vietnam is covered in different colors each season. However, there are always hills of green tea. Especially, these spots become more attractive in May. Visit the place and admire the open space, take some fresh breezes. These tea ranges wind in different shapes such as the heat-shape, S-shape,... They also give off a gentle flavor that can heal your mind immediately.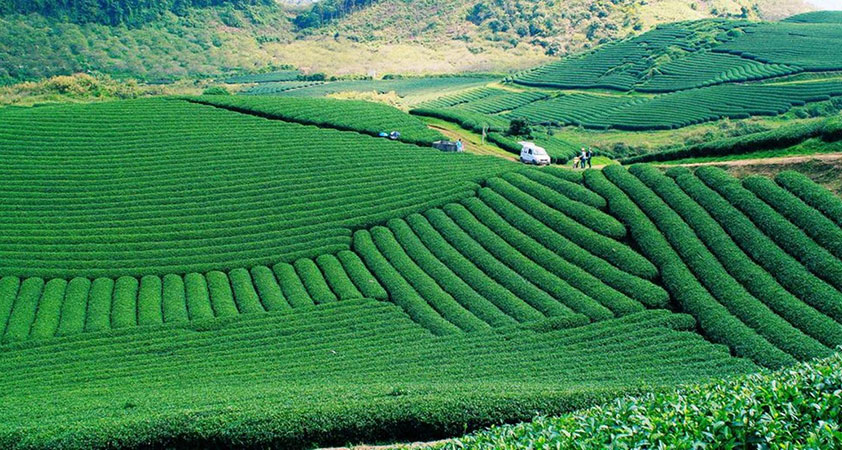 You may also like:

Vietnam 12 days itinerary through North-west and Halong Bay

5. Visit terraces in rainy seasons
May is also the time when terraces are filled up with rainwater. Farmers will start to grow rice at this time. On the roadway to the attraction, tourists may get amazed at the terraces winding around the mountainsides up to the sky. Water on these fields reflects sunlight above, making the spots sparkle magically. You even see the rainbow sometimes. Especially, it is interesting if you can admire the scenery of the moon in the fields, which is hard to imagine in busy cities.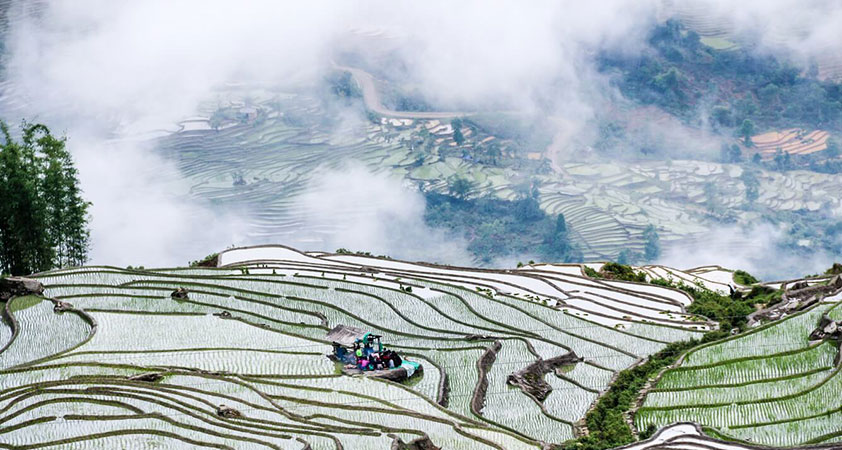 It is hard to describe how charming Moc Chau Plateau is. Let start your journey with full preparation to have a nice memory there. Contact us if you need any more help.
ONLY WITH US : 100 % MONEY BACK GUARANTEE within 10 days from the date of booking if not satisfied.
For further information, or simply a free quote, please
contact us
at any time via our email:
info@galatourist.com
, our experienced consultants will reply to you within 48 hours.
Sincerely yours & see you soon!
GALATOURIST
since 2005.