Pray for good luck at Quan Thanh Temple in Hanoi Vietnam
The three ancient Chinese characters which are still seen today on the top of the entrance to the Quan Thanh Temple Hanoi mean Tran Vu Quan. Literally, the temple is dedicated to Saint Tran Vu. Temples are places for worshipping saints while pagodas are dedicated to Buddha and faithful disciplines.
Quan Thanh Temple opening hours: 8 AM to 17 PM, open every day.
Quan Thanh Temple entrance fee: 10.000 VNĐ per ticket for an adult.
Quan Thanh Temple Hanoi Legend
Saint Tran Vu was a legendary figure which was a combination of a character in Vietnam's legend and a mystic character derived from China's legend. In Vietnam's legend, he was a saint who had earned the merits of assisting Thuc Phan (future King An Duong Vuong) in getting rid of ghost spirit during the construction of Co Loa Citadel. An Duong Vuong Temple in Co Loa Citadel (Dong Anh district) is also named Thuong Temple. Entering inside, there are An Duong Vuong's bronze statue (cast in 1897) and a big arbalest symbolizing the magic arbalest in the old days. In China's legend, Saint Tran Vu was a saint who had made many contributions in safeguarding the northern border.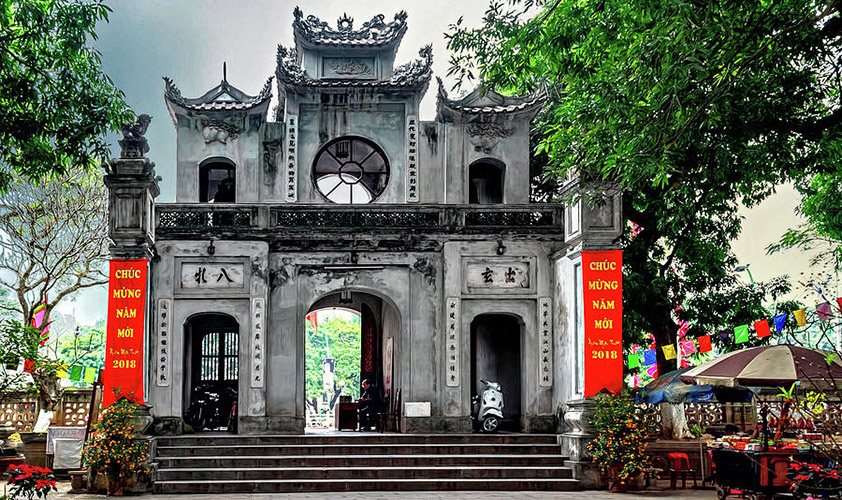 Nowadays, Quan Thanh Temple, together with Tran Quoc Pagoda Hanoi, are two places of worship in the area of West Lake Hanoi.



 See another recommendation: Visit One Pillar Pagoda Hanoi with lotus shaped architecture
Quan Thanh Temple Hanoi Architecture
Quan Thanh belongs to one of four temples, which are also in the list of Hanoi best attractions, built in four corners of Hanoi with an aim to protect the area in peace and harmony. The temple was first built in the 11th century. After many times of recreation, it still keeps the original shape and structure. The overall construction of the attraction was following the Chinese style, which was very popular in the feudal period in Vietnam. All component parts contribute to the majesty and solemnity of the temple. For example, there are four big pillars which are all printed with phoenix and tiger shapes. 

Especially, the temple is famous for a wide range of statues which are mostly cast in black bronze. Special attention should be paid to the black bronze statue of Saint Tran Vu. Another object of no less significance is a smaller black bronze statue of Mr. Trum Trong, the chief artisan of the bronze casting team who had made the giant statue of Saint Tran Vu and the great bell on top of the entrance.

​​​​​​​Besides, wood carving at the Quan Thanh Temple Hanoi is also worth admiring. On the wooden items, you may see all the popular items in daily life such as flowers, birds, wineskins,... They are all carefully carved, showing off the talented skills of ancient craftsmen. 
Culture and Festival of Quan Thanh Temple Hanoi
Not only having historical and architectural value, the attraction has also been a famous destination of worship. Thousands of travelers coming here for both sightseeing and praying for peace and happiness. Especially, if you have a chance to join a city tour in Hanoi on the first days of the year, you should not miss the Quan Thanh Temple Festival held on 3rd March in Lunar Calendar every year. You will certainly learn more about the culture and spirit of Hanoi local residents.



Discover North Vietnam with our tour 7 day tour Vietnam​​​​​​​ trekking in the Northwest
ONLY WITH US : 100 % MONEY BACK GUARANTEE within 10 days from the date of booking if not satisfied.
For further information, or simply a free quote, please
contact us
at any time via our email:
info@galatourist.com
, our experienced consultants will reply to you within 48 hours.
Sincerely yours & see you soon!
GALATOURIST
since 2005.