List of things to do in Bac Kan from experienced travelers
If you are looking for peaceful attractions to hide from daily stuff, then Bac Kan province in Vietnam is a nice suggestion. A lot of things to do in Bac Kan are available for your relaxing moments such as boating, climbing, trekking,... or just staying at a traditional homestay. Read the article for more details.
I. Bac Kan location
Bac Kan Province
is in
Northeast Vietnam
, about 169 kilometers far from
Hanoi Capital City
and adjacent to
Cao Bang
,
Lang Son
,
Thai Nguyen
,
Tuyen Quang
provinces, which are also favorite destinations for tourists from all over the world. The total area of the attraction is 4.795,54 square kilometers.
Bac Kan Vietnam
 is the home of Kinh and six other ethnic minorities. Each of them has a specific culture and activities for your discovery.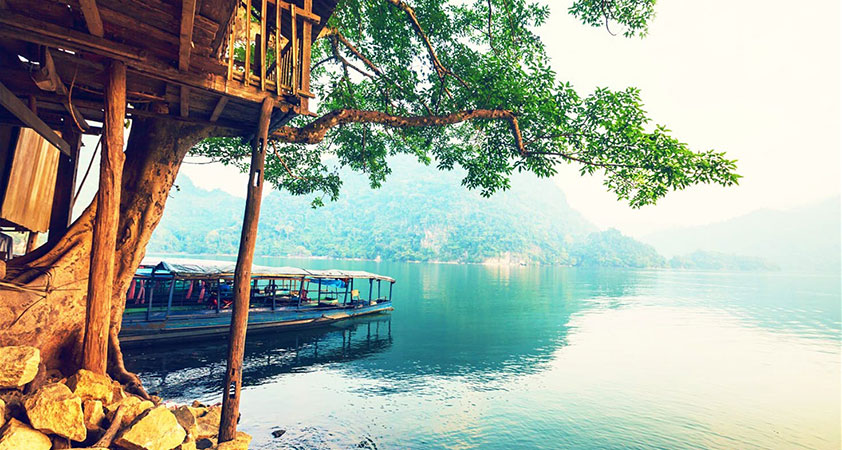 Besides the diversity in culture, the province is known for a lot of tourist attractions such as
Ba Be National Park
,
Ba Be Lake
- one in the top 20 largest fresh lakes in the world,
Puong Grotto
,... 
II. Best time to visit Bac Kan
The climate in Bac Kan is typical of the tropical monsoon climate. It is cool and fresh around the year with an average temperature of 22°C
,
 so you can visit the place at any season. There are two main seasons in the province: the rainy one from May to October and the dry one from November to the next April. Each season has its own beauty for your discovery. Especially, from May to July, the landscape reaches its peak of beauty.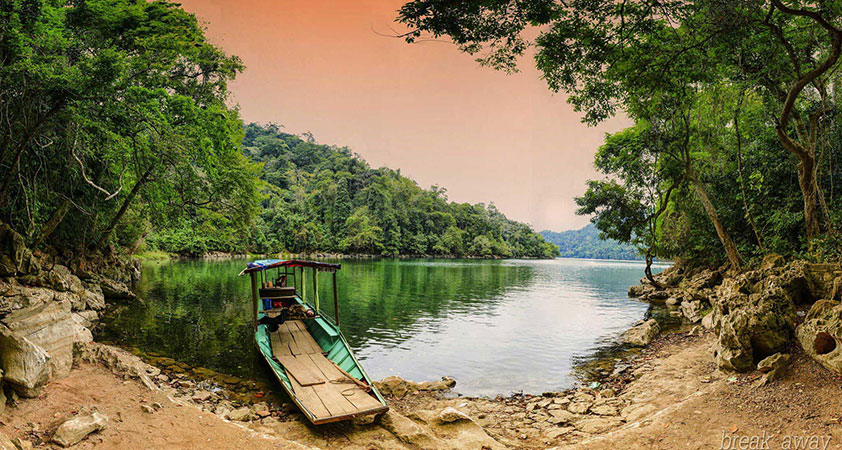 III. How to get to Bac Kan ?
It takes about four hours to move from Hanoi Capital City to Bac Kan Province. Foreign tourists are supposed to catch a coach car to travel to the destination. Most of them gather at My Dinh coach station and time is available around the day. In Bac Kan, you can follow the tour guide or hire a motorbike to discover the land by yourself. If you are not familiar with Vietnamese transportation, it is better to have a trustworthy tourism agency to make the itinerary for your experience.
IV. Top attractions in Bac Kan

1. Pac Ngoi Village - The home of Tay ethnic minority
Pac Ngoi Village
is in
Nam Mau Commune
,
Ba Be District
. It is the home of the Tay ethnic minority. Traditional stilt houses are located alongside Leng River, next to Ba Be Lake. Some of them still keep the original unique architecture, but many have been modernized for convenience. Most of the locals provide tourism services and contribute to the local tourism development. You will stay overnight in these houses and take part in many activities such as boating, trekking,...

 You are suggested: More experience in Vietnam with 7 days Vietnam classic tour package.

2. Kim Hy Nature Reserve - The discovery of endangered flora and fauna
The nature reserve is 14000 hectares from Vu Muon Commune, Cao Son in Bach Thong district to Luong Thuong, An Tinh, Con Minh in Na Ri district. It is known for the diversity in fauna and flora, many of which are in danger of extinction. Especially, the area is the home of many kinds of bats. Kim Hy Nature Reserve is also rich in mineral resources, especially gold. It is really a favorite destination for tourists who love challenging discovery.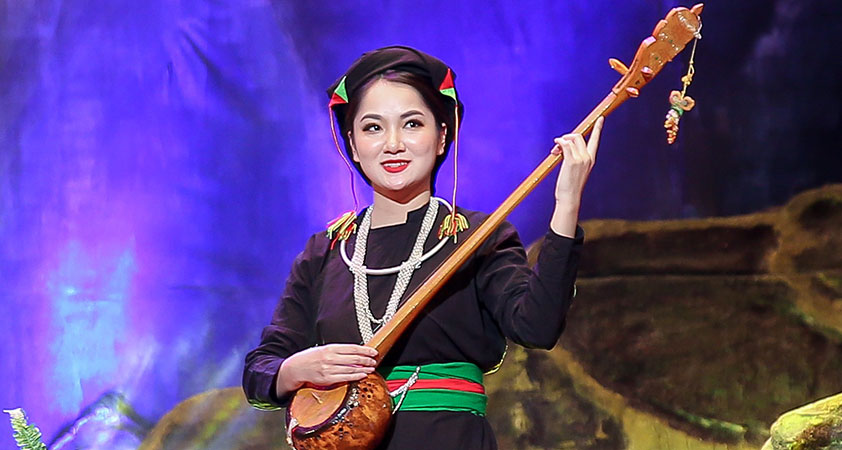 3. ATK Bac Kan - Vietnamese's sense of patriotism displayed
ATK Bac Kan
is a historical place which is also called "Vietnam Revoluntary Capital" in the period fighting against the enemy from 1946 to 1954. In difficulty, Ho Chi Minh President had decided to move to the place. There is still the stilt house where he held the conference to find out the strategy against the enemy, contributing to the victory of the country.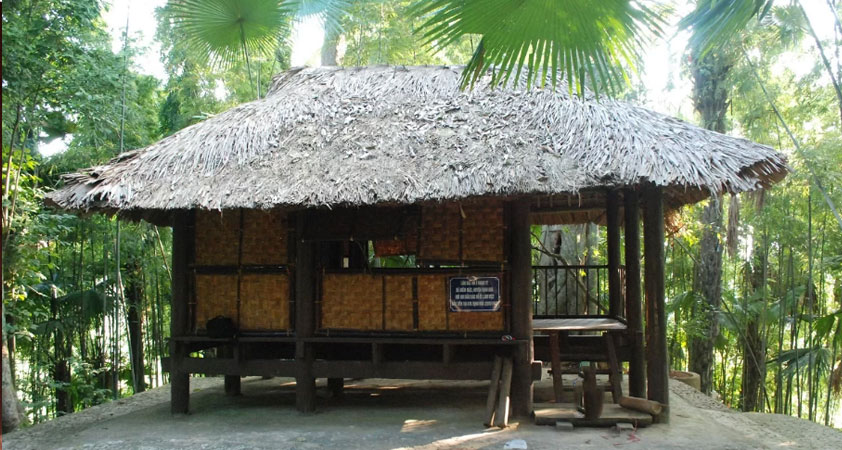 Ao Tien
is a small lake in three hectares, located on the top of a mountain, next to
Ba Be Lake Vietnam
. Surrounded by a tropical forest, it has a cool and fresh atmosphere. Legend said that some fairies had taken a bath and then played chess there. The water is always blue and quiet, reflects the image of mountains and sky above. The lake is also the home of many kinds of aquatic fauna and flora.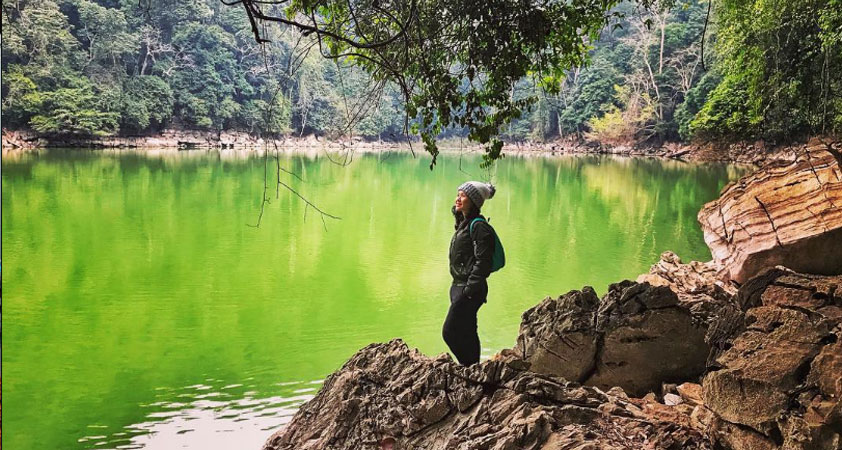 See more: Spend 16 days in Vietnam discovering Northern attractions of charm and peace.

5. Puong Cave - A masterpiece of nature for an exciting adventure
Puong Cave
is in
Cao Thuong Commune
,
Ba Be district
. It is a two-mouth cave, 300 meters long, and 20 meters high. Joining a boat tour to discover the cave is also one of the must-have
things to do in Bac Kan
. There are a lot of vertical stone columns and stalactites in different sizes and colors reflecting on the water. They have been formed since
Nang River
went through the heart of
Lung Nham limestone mountain
. Thanks to the natural light, granite outcrops have recently been discovered outside the cave mouth. You can take a boat to discover alongside the river and travel through the cave.
6. Ba Be Lake - Take a boat tour to admire the full-range landscapes surrounding
Ba Be Lake
is located at the center of
Ba Be National Park
, at the height of 150 meters above the sea water level and 70 meters far from
Bac Kan City
center. It is considered as one of the most beautiful and unique natural landscapes in Vietnam.
The lake was formed when many limestone mountain and cave ranges collapsed million years ago. It is 500 hectares large with a lot of nice islets rising from the water. On visiting the place, you can see a hundred kinds of fresh fish living there.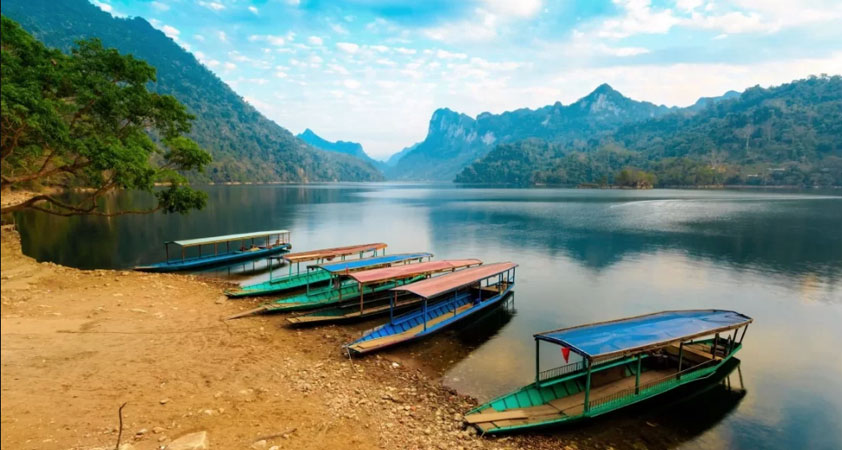 7. Ba Be National Park - All of what to do in Bac Kan are available
Ba Be National Park
is in
Ba Be District
,
Bac Kan Province
. It is 70 kilometers far from Bac Kan city center. On visiting the attraction, you can admire green mountain ranges together with thin layers of cloud and dew surrounding. Moreover, you can hear birds singing anywhere, contributing to the charming attractiveness of the spot. To discover the land, you are suggested to join a boat tour on
Ba Be Lake
. In front of you are groups of orchids on ancient trees, someone challenging the huge waterfall or ones riding bikes on crooked roads...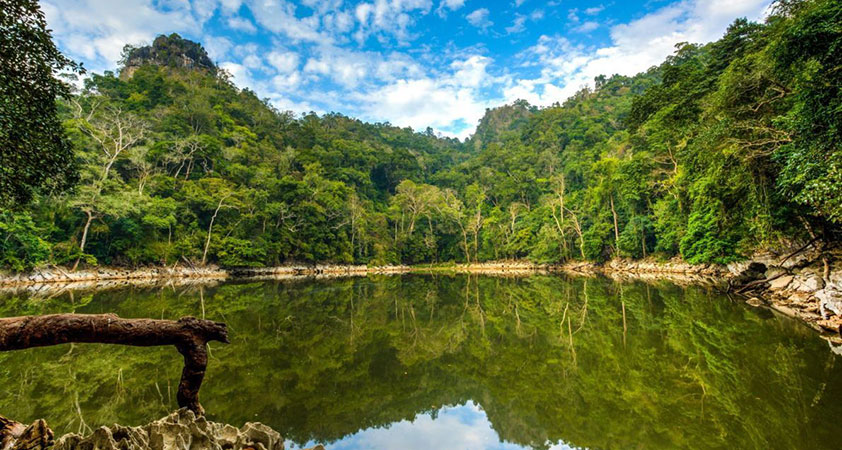 8. Thach Long Pagoda - A stone dragon deep in the mountainous cave
Thach Long, which means "a stone dragon" in Vietnamese, is located in Cao Ky Commune, Cho Moi District, Bac Kan Province. It is called "a sacred pagoda in a stone cave" in the list of what to do in Bac Kan. Every year, on January 7th in the Vietnamese lunar calendar, thousands of tourists come to the attractions to pray for good lucks for their families and friends. There are two main parts of the pagoda. The first one is Thien Pagoda. You have to go through stone steps from the foot of the mountain to the cave mouth. The other is Am Pagoda, which is 36 square meters large. You will go around the mountainside to reach the spot. Both of them have natural statues of Buddha.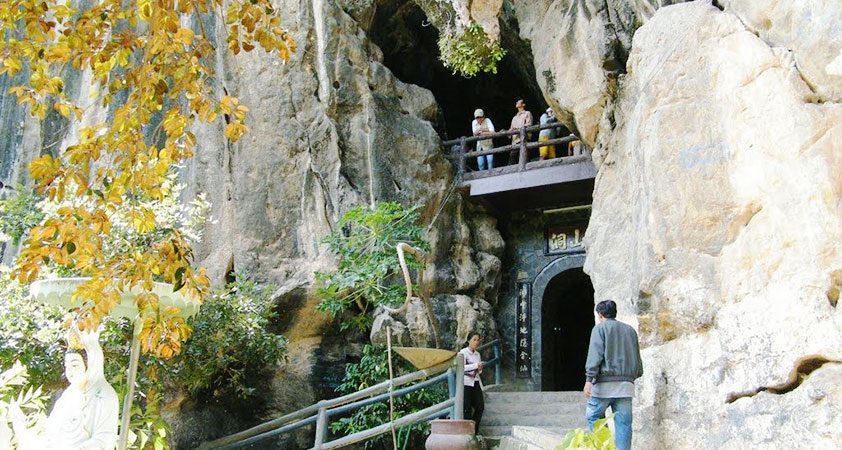 9. Tham Temple - A perfect destination for archaeology-lovers
Tham Temple
is in
Yen Han Commune
,
Cho Moi District
,
Bac Kan
. It is a popular attraction to visit in every new year for the sacred meanings it has. The temple is located on the mountain cliff, on the side of
Cau River
. Therefore, the atmosphere is open and fresh around the year. The place plays an important role in the locals' spirituality. Recently, archaeologists have discovered a number of human remains that have existed for nearly 3000 years. If you are a history-lover, the attraction is
what to do in Bac Kan
.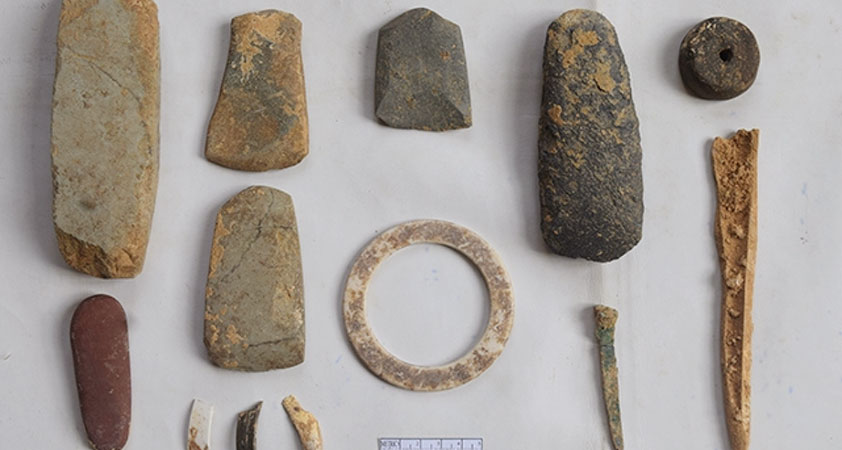 10. Nang Tien (Fairy) Grotto - The paradise of ancient stalactites and stalagmites
Nang Tien Grotto is in Luong Ha Commune, Na Ri District, Bac Kan province. It has been recognized as a national heritage in 1999. The attraction is famous not only for the majestic landscape but also for the legendary stories behind. Nang Tien is a natural cave deep in the ground. From the mouth, you can see the magical atmosphere created by hundred of stalactite and stalagmites. Surrounding the cave is a large area of rice terraces together with outstanding water flows sparkling under the morning sunlight. All will certainly give you a nice impression for the first time seeing.


11. Dau Dang waterfall -  It seems that countless white ribbons dance in the air
Dau Dang Waterfall
is located between two limestone mountain ranges on
Nang River
, also the border of Bac Kan and Tuyen Quang provinces. The river going through Lung Nham Mountain has created
Puong Grotto
, then it continues its journey to
Hua Tang Village
, at which it is disrupted by hundreds of stone blocks in full sizes, forming a majestic waterfall called Dau Dang. It is great to admire the landscape after experiencing other
things to do in Bac Kan
around the quiet lake Ba Be.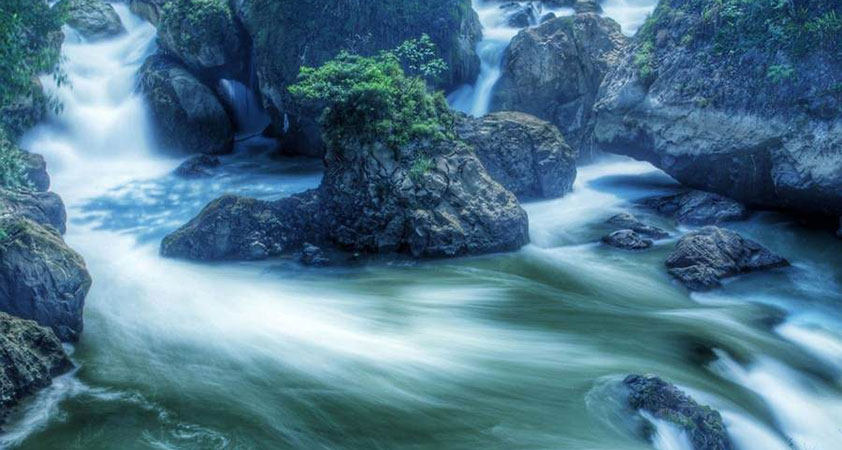 V. Where to stay in Bac Kan ?
For the rising demands for tourists' accommodation, the locals have invested in this section to give tourists the nicest impression about the land. It is not difficult to find out a suitable hotel or homestay during your journey. Below are some recommendations we offer:
Hoang Chuyen homestay is located in Pac Ngoi Village, Nam Mau, Ba Be district. With the dominance in the location which is near Ba Be National Park, it is a nice choice for both couples and groups to stay overnight and learn about the local culture.
Mr.Linh's homestay is located at Coc Toc Village, Nam Mau Commune, Bac Kan province. It is a favorite stop thanks to the clean environment, together with the peaceful scenery surrounding. It gives an open atmosphere with a large balcony looking toward the green space surrounding. Moreover, the owner and staff are very friendly and warm-hearted.
Minh Quang homestay is in Ba Be National Park, Nam Mau Commune, Ba Be. The price varies to a large extent up to your choice which kind of room to stay. Single rooms, couple ones and group ones are available. Besides, the staff is professional and friendly so that you will have time to stay comfortable there.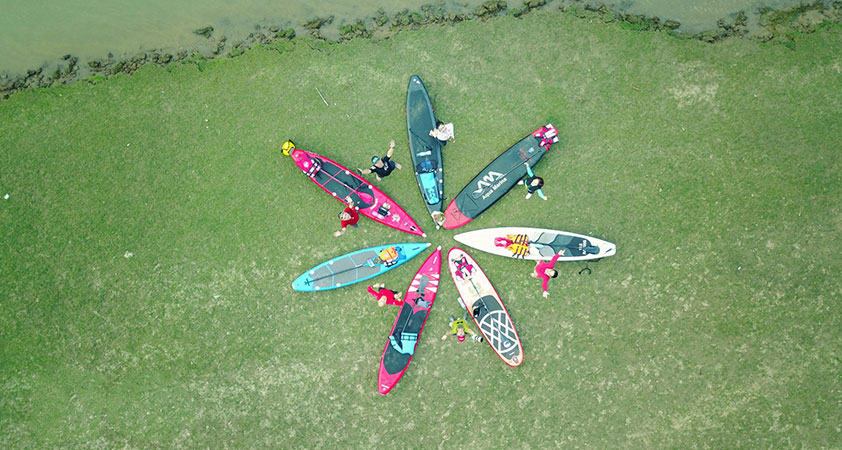 Hong Gam homestay in Bo Lu Village, Nam Mau Commune, BaBe district, Bac Kan. Every room is provided with modern facilities together with cozy interior furniture. From the homestay, you can enjoy the fresh atmosphere surrounding that you can hardly see in daily life.
Duy Linh homestay is in DT254, Bo Lu Village, Nam Mau Commune, Ba Be District. It is near many attractions in the province, especially Ba Be National Park. The homestay also provides BBQ party with a view toward the green scenery. There is a restaurant on the campus. Free wifi and free parking are available. 
Apart from these recommended ones, there are a lot of hotels alongside your itinerary. However, it is suggested to live in homestays as to
what to do in Bac Kan
to come closer to the locals and learn about their unique culture and lifestyle.

VI. What to eat in Bac Kan ?

1. Dam Deng sticky rice
Dam Deng sticky rice is the specialty of Tay ethnic minority. It is made from local ingredients. Especially, the color and flavor are taken from the mountainous leaves. It is complex to practice the recipe and you must have certain experiences to create the original flavor and taste. It is nice to enjoy the rice together with local salted shredded pork or roasted and crushed sesame and salt.
2. Wormwood cake
Tay ethnic minority always prepare this cake on special occasions such as Tet holiday. It has an attractive flavor of sticky rice flour combined with local wormwood. Originally, they crushed the cooked sticky rice but recently it is replaced by sticky rice flour. Moreover, it is added with black or yellow sesame to be more greasy. Some tourists may be afraid of the bitter flavor of wormwood, but then get surprised at the gently sweet taste of sticky rice and sugar. It is a specialty not only delicious but also healthy that you should try.
3. Ba Be roasted fish, sweet and sour shrimp
On the Ba Be Lake boat tour, do not forget to taste Ba Be roasted fish which have been caught fresh there. Fish are kept in bamboo and roasted on embers, giving off an appetizing flavor that attracts you from a far distance. Besides, sweet and sour shrimp is another specialty provided in the area. It is nice to enjoy it with mountainous vegetables or pork meat.
4. Stream crab
Crabs caught on local streams have a different taste from ones in the ocean or lakes on deltas. There are a lot of recipes to make the food more attractive such as steamed crab with garlic and citronella, roasted crab with salt, roasted crab with tamarind, crab soup,... The best time to enjoy the food is after the rainy season.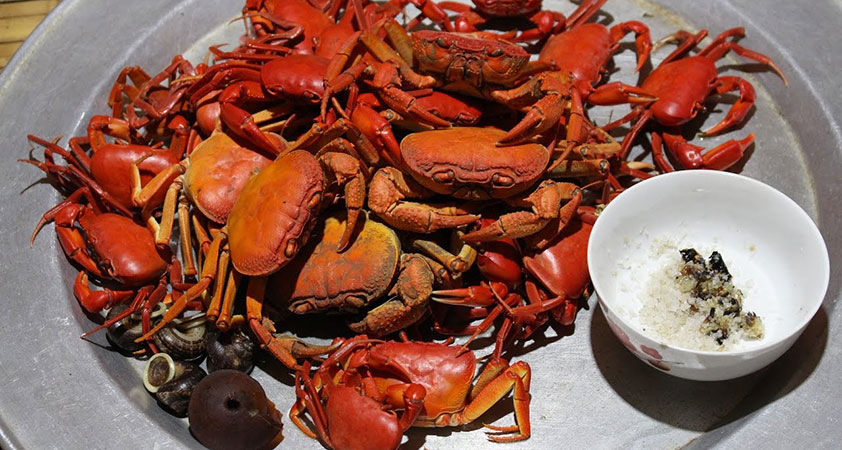 5. Chinese sausage and local meat hanging up the kitchen
Smoked meat is a popular food in mountainous areas in Northern Vietnam. The most important note to bring about the special flavor is marination. The complex recipe makes the food unique in tourists' minds. Besides, meat hanging up the kitchen is also worth tasting. Especially, they keep the meat to the mountain before hanging up the kitchen. Nowadays, they do not keep a large amount in their homes as before but mostly serve tourists visiting.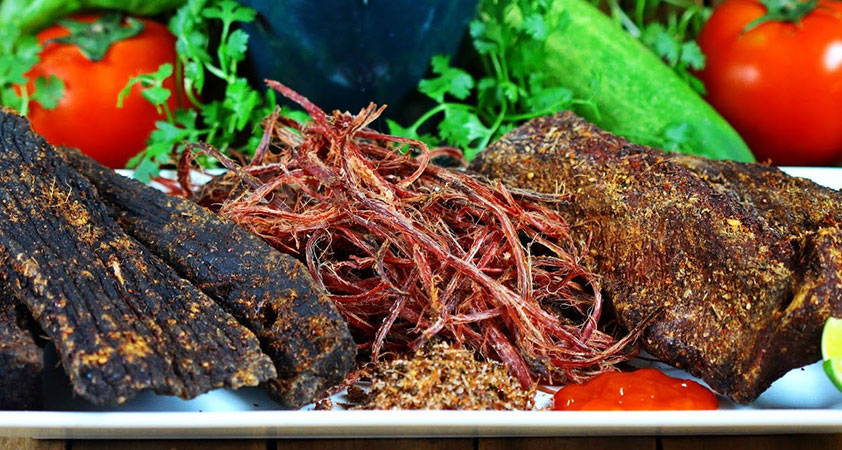 6. Khau Nhuc meat stew
Khau Nhuc is served on special days such as Tet holidays or wedding ceremonies, local festivals,... However, nowadays, it becomes a gift for tourists visiting the land. Unlike the recipe in other areas in Northern Vietnam, the meat stew is made of bacon and taro. The locals enjoy the food together with rice or sticky rice and sometimes rice wine.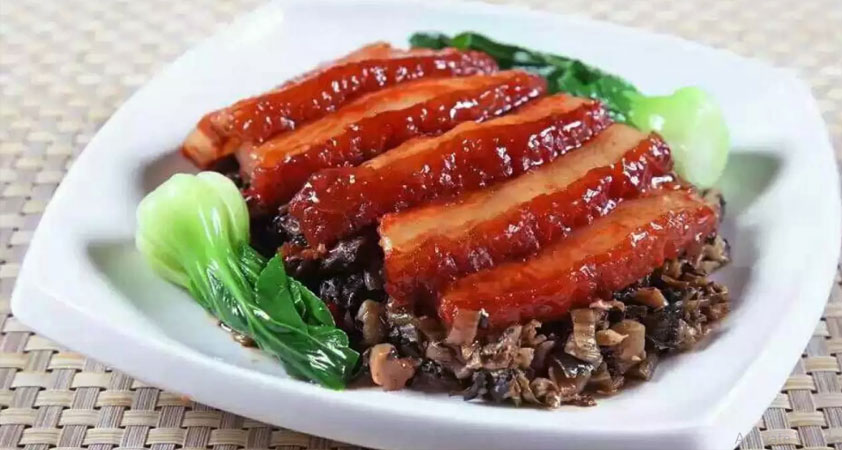 7. Mountainous vegetables
It is regret not to taste local dishes made of mountainous vegetables. There are many healthy vegetables that local residents, throughout the time, have discovered and know how to make it delicious. They are included in many recipes such as boiled, grilled with garlic, salted ones,... Each of them has its own typical flavor that will certainly satisfy your taste.
With these recommendations of
what to do in Bac Kan
, we do hope you will have a lot of memorial experiences during the journey to the land and other provinces in Vietnam as well. If you wish for more information, please contact us to get the latest updates now.
ONLY WITH US : 100 % MONEY BACK GUARANTEE within 10 days from the date of booking if not satisfied.
For further information, or simply a free quote, please
contact us
at any time via our email:
info@galatourist.com
, our experienced consultants will reply to you within 48 hours.
Sincerely yours & see you soon!
GALATOURIST
since 2005.