Travel guide of what to do in Thac Ba Lake in Yen Bai, Vietnam
Thac Ba is also called "a mini Ha Long", one in seven wonders of the world recognized by UNESCO. On visiting the attraction, you will have relaxing moments in an open space.
1. Thac Ba Lake location
Thac Ba
is indeed an artificial lake providing water for Thac Ba hydropower plant, at an area of 234000 hectares. Gradually it has become a famous destination for tourists to come and enjoy the fresh atmosphere in an open space. It is 140 kilometers far from
Hanoi Capital City
, in
Luc Yen District
,
Yen Bai Vietnam
.
The water is from a system of great rivers in the area. A diversity in biology also brings about a charming attractiveness that you can get the feeling for the first time trying. You are suggested to take a boat tour to discover the scenery surrounding and join other outdoor activities as well.

 Join now: 
Discover classic heritages in Vietnam tour 15 days at the cheapest price ever.
2. Thac Ba Lake attraction
Besides the main activities on
Thac Ba lake
, there is also a wide range of spots to visit nearby that you should not miss during the journey. Below are our recommendations:
Thac Ba hydropower plant is the first place to visit suggested for a Thac Ba Lake tour. It is on Chay River, also the first construction built in the North in the Vietnam War Against Enemies.
Ngoi Tu village is the home of the Thai ethnic minority. It attracts thousands of tourists to visit every year thanks to the traditional culture they keep through their costumes, local dance, foods,... You will soon get a feeling of peace and tranquility there.
Thac Ba Temple is recommended for a spiritual tourism lover to discover. The specific architecture together with the sacred and ancient atmosphere has made it a must-visit spot. Moreover, the green background also contributes to the charm of the attraction.
Thuy Tien Cave is another suggestion with a mysterious beauty. It is related to the love story of Trong Hai prince and Thuy Tien princess. It is said to be the home of theirs. Going deep into the cave, you will see a lot of mysterious stones in different shapes and sizes. Like Thuy Tien Cave, Xuan Long Cave is also worth visiting once.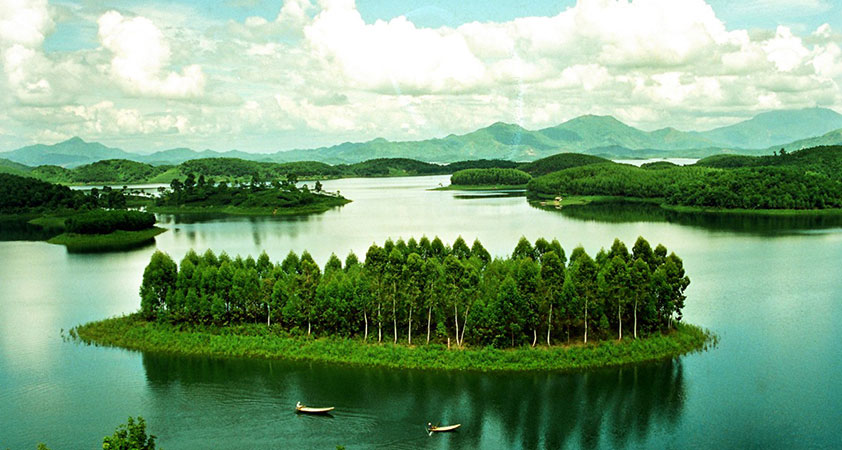 Dat Ong Do shine shows respect for the teacher who gave literacy training to the locals. There is also a Buddhism pagoda nearby.
Cao Bien mountain is next to Thac Ba Lake. From the attraction, you can capture the overview of the lake below. You can also meet the locals working on these mountainsides to learn more about their living.

Hottest offer:

The cheapest tour of highland Vietnam 5 days itinerary.
3. Thac Ba Lake foods
The area has all the foods typical for a mountainous area in Vietnam. Some of them are included: 
Grilled fish
Five-color sticky rice cake
Rice in bamboos
"Walking" chicken
Dai Minh pomelo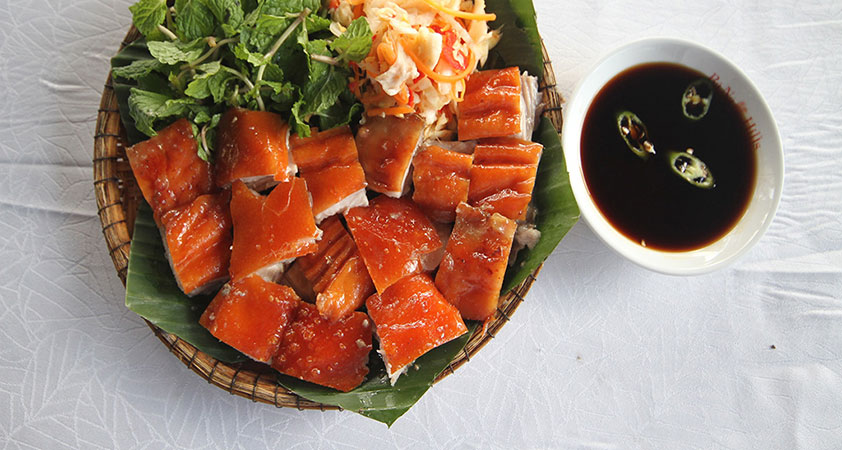 Above are our suggestions for a tour to
Thac Ba Lake
beside other attractions in the area like
Mu Cang Chai Yen Bai
or
Tu Le Valley
. The journey will give you relaxing moments and help you regain your energy for upcoming days. If you concern more, contact us for more help and support !
ONLY WITH US : 100 % MONEY BACK GUARANTEE within 10 days from the date of booking if not satisfied.
For further information, or simply a free quote, please
contact us
at any time via our email:
info@galatourist.com
, our experienced consultants will reply to you within 48 hours.
Sincerely yours & see you soon!
GALATOURIST
since 2005.