Enjoy exciting atmosphere of Thay Pagoda Festival in Hanoi
Thay Pagoda attracts tourists all over the world by its ancient beauty of structure in addition to the suitable locations for other nearby attraction. Moreover, the diverse culture and friendly residents have brought about a comfortable atmosphere for travelers.
Thay Pagoda Hanoi is situated at the foot of Sai Son Mountain in Phuong Cach Commune, Quoc Oai District and 30km southwest of Hanoi City center. The location helps the heritage not be affected much during the Vietnam period of resistance against enemies, so there still remains many invaluable items of history.
Characteristics of Thay Pagoda
Thay Pagoda, which has another name Thien Phuc Tu, was built in the 11th century during the reign of King Ly Nhan Tong. At first, it was a small pagoda managed by Priest Tu Dao Hanh. The pagoda was initially built according to Sino-Vietnamese character "Tam", which is formed by 3 hyphens parallel to each other. According to the Feng shui, the pagoda was founded on a dragon-shaped land in the hope that it would bring about the peace and thrive to the local residents.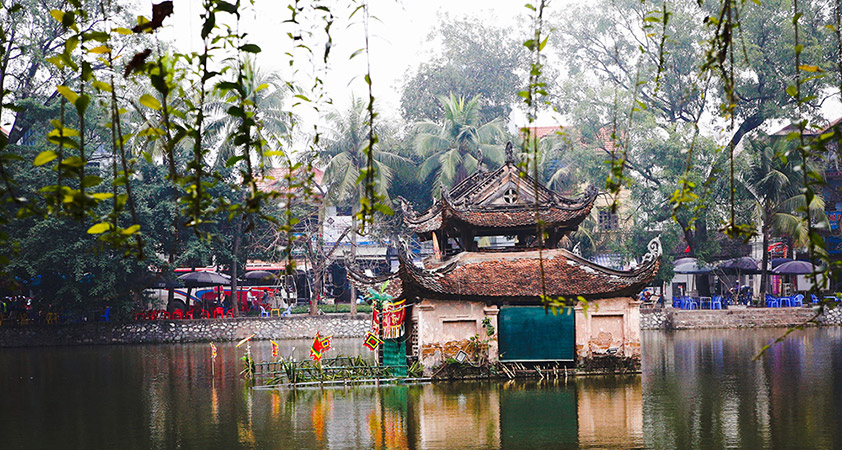 The pagoda, therefore, consists of three sections:
Ha Pagoda
,
Trung Pagoda
, and
Thuong Pagoda.
The outer part, Ha Pagoda, is a place for offerings and ceremonies; the middle part, Trung Pagoda, is a place for worship of Buddha; and finally, the inner part is a place for worship of Priest Tu Dao Hanh. An automated sandalwood statue of Tu Dao Hanh that stands and sits is located in a red lacquered shrine trimmed with gold and covered with a curtain.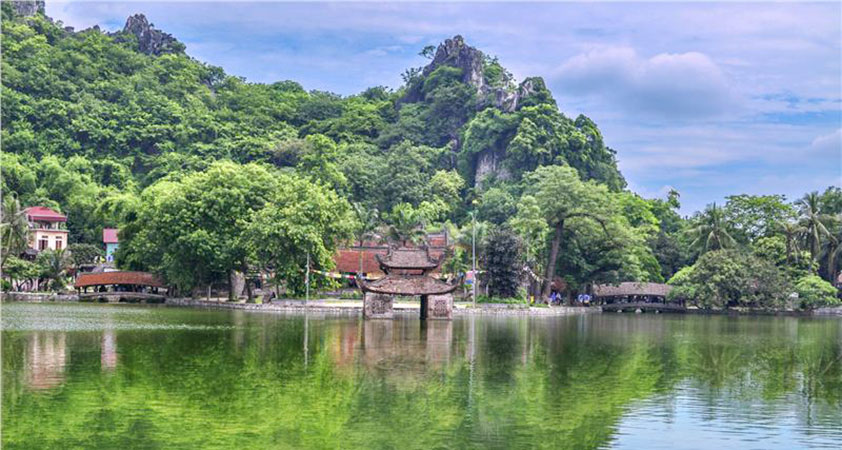 Click here
 to discover
Quan Thanh Temple
 Hanoi
- another architectural artwork in the capital.
In front of the pagoda is
Long Tri pond
, in the middle of which is a stage called
Thuy Dinh
, where water puppet performances are held.
Nhat Tien
and
Nguyet Tien Bridges
, built by Doctor Phung Khac Khoan in 1602, are located on each side of the stage. 
Especially, there is a system of pagodas and temples on the mountain behind such as
Thuong Pagoda
,
Cao Pagoda
..., an area called "
Paradise Market
" with stone items in shape of chairs, goods shelves, cups and
But Moc Cave
,
Cac Co Cave
...

Thay Pagoda Festival
The traditional festival is held in the pagoda from 5th January to 8th March every year. It is a nice chance for travelers all over the world experiencing the culture and spirit of Vietnam people. The main activities in include both solemn celebrations and exciting outdoor games and competitions like water puppet and Quan Ho folk song presentation on boats and climbing. The climate at these days is also perfect for sightseeing at the
Thay pagoda
. 

For this interesting information, do not miss Thay Pagoda Vietnam when you have a chance to the North of Vietnam. Moreover, from here you can continue to visit other Hanoi Vietnam attractions to understand more about this beautiful area of Vietnam.
There are many other interesting sites that can be visited surrounding. For example, Phat Tich Pagoda, Tay Phuong Pagoda are located not too far behind the pagoda. Or Duong Lam Ancient Village tour is another suggestion with hundreds of ancient red-brick houses.



 Click here to consult more interesting attractions in Vietnam tour 12 days package
ONLY WITH US : 100 % MONEY BACK GUARANTEE within 10 days from the date of booking if not satisfied.
For further information, or simply a free quote, please
contact us
at any time via our email:
info@galatourist.com
, our experienced consultants will reply to you within 48 hours.
Sincerely yours & see you soon!
GALATOURIST
since 2005.