Thailand Shopping and nightlife
Duty-free shops are located at Bangkok, Phuket, Chiang Mai and Had Yai airports as well as in the King Power Complex (www.kingpower.com) on Bangkok's Sri Ayutthaya-Rangnam Road. Items can be purchased there and delivered to the airport in time for the departure flight
Shopping in Thailand
Duty-free shops are located at Bangkok, Phuket, Chiang Mai and Had Yai airports as well as in the King Power Complex (www.kingpower.com) on Bangkok's Sri Ayutthaya-Rangnam Road. Items can be purchased there and delivered to the airport in time for the departure flight. Value Added Tax (7%) can be refunded on goods bought in shops labelled 'VAT Refund for Tourists', but there is a minimum transaction of ฿2,000 including VAT. VAT Refund Application for Tourists forms are completed at the time of purchase and it is necessary to show one's passport. Cash refunds (minimum ฿5,000) can be obtained in the airport departure hall and often the goods purchased must also be shown.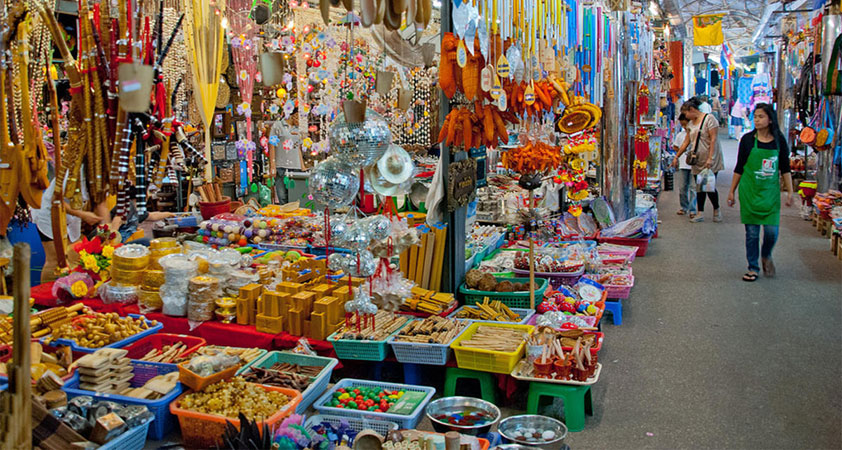 Souvenirs such as textiles, handicrafts, antique reproductions, ceramics and jewellery are available; all major cities and popular tourist haunts will offer some or all of these although Bangkok and Chiang Mai have the greatest range and excellent markets.. Generally souvenirs and tourist offerings are extremely good value but shoppers need to check quality carefully.
Shopping hours: Mon-Sun 1000-2100/2200.
Nightlife in Thailand
Bangkok offers a wide range of entertainment venues, from nightclubs, pubs, bars, cinemas and restaurants, to massage parlours, pool halls and cocktail lounges. The nightlife is concentrated in three districts of Bangkok - Banglamphu, Patpong (between Silom and Surawong roads), Sukhumvit Road and the nearby street of Soi Cowboy. Bangkok's sex industry is as blatant and booming as ever.
Many venues are open all day and late into the night, although bars and clubs are supposed to close at 0200. Sometimes there is an admission fee but this usually includes one or two drinks. The dress code is very relaxed, although a few of the nightclubs do enforce smarter clothing.
Performances of traditional religious and court dances can be seen at the Thailand Cultural Centre and Patravadi Theatre in Bangkok. Elsewhere on the mainland, nightlife takes the form of traditional dances. The islands are renowned for their nightlife but attendance is almost exclusively by foreigners. The full moon parties are notorious and continue well into the following morning. Performances by the infamous katoeys (lady boys) are worth a visit, with the most famous seen at the Calypso Cabaret in the Asia Hotel in Bangkok.
ONLY WITH US : 100 % MONEY BACK GUARANTEE within 10 days from the date of booking if not satisfied.
For further information, or simply a free quote, please
contact us
at any time via our email:
info@galatourist.com
, our experienced consultants will reply to you within 48 hours.
Sincerely yours & see you soon!
GALATOURIST
since 2005.