When to travel to Vietnam for a best vacation experience ?
If you are planning for a holiday in Vietnam, it is worth considering when and where to visit. It is a tropical country typical for diversity in both nature and culture, with three separated-climate areas. Then Galatourist will give you more useful information so that you will have a perfect tour to Vietnam.
1. Influence of location on the climate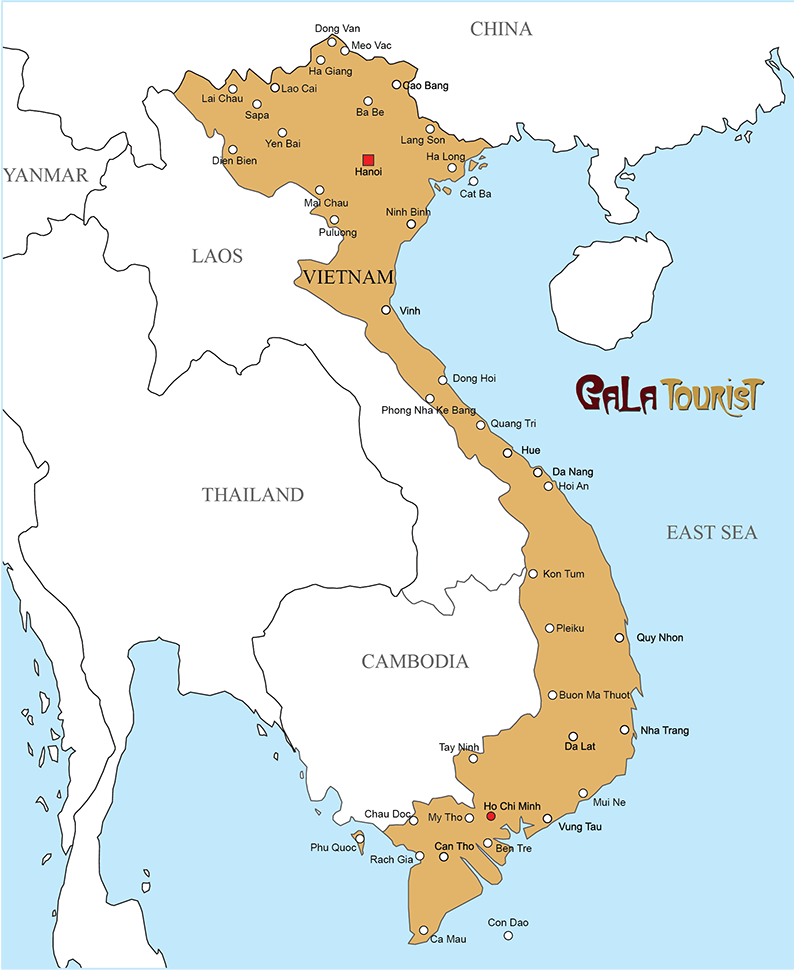 Vietnam has a complex terrain. The S-shape country is typical for 3.260 kilometers of coastal line, not including islands, while three-quarters of the area is mountains and plateaus. For each of Vietnam destinations and each season, you will have different exciting experiences. In other words, it is hard to say certainly the best time when to travel to Vietnam.  Although it completely belongs to the tropical area, the Vietnam climate is divided into three separated areas of climate.
Northern Vietnam and North Central Vietnam have a humid subtropical climate. There are four seasons in a year: Spring, Summer, Autumn, Winter.
Central Vietnam and South Central Coast are typical for the tropical monsoon climate.
Southern Vietnam is known for grasslands with an average temperature of 18°C and a severe dry season. The average rainfall in the driest month is under 60 mm. 

1.1. Northern Vietnam
The climate of this area is unstable and have significant changes in every season:
North Eastern includes Northern Delta and the gently sloping area alongside the Red River. These mountains, in shape of green bows, absorb northeast monsoon and northern cold wind in winter. It also stays next to the east side of the Gulf of Tonkin and covered by the highest mountain in Indochina, Hoang Lien Son, in the west. Therefore, it is directly affected by tropical storms (between June and September) but less affected by the dry and hot wind.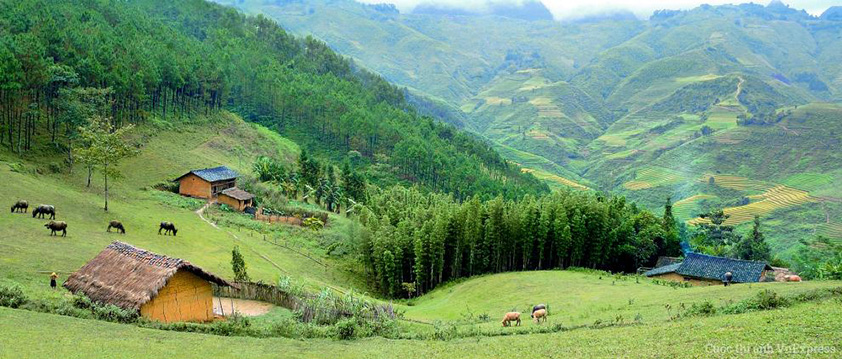 Northwest includes mountain ranges from the right bank of Red River to the Hoang Lien Son range. The later stretches in west-north to east-south direction, which plays an important role as a huge wall to reduce the coldness of the Northeast. The temperature of the Northwestern area is higher than the Northeast 2 to 4°C, not including the effect of the height.

1.2. Central Vietnam and South Central Coast
The climate of Central Vietnam and South Central Coast is typical with the tropical monsoon. The dry and humid seasons of the area does not coincide with the two others. In summer, with a considerable amount of rainfall around the country, it is in the driest season. The temperature is completely different in two sides of the Cloud Pass (Hai Van Pass):
The north side of Hai Van pass: The winter is shorter than the North and the summer is really hot due to the Foehn effect. In winter, Thue Thien Hue Province and the surrounding areas are especially affected by the northeast monsoon passing the sea and bringing along with vapor, then creating severe rains. In summer, the southwest monsoon makes it rain on the western hillside but continues to blow toward the other side, creating a dry climate up to 40°C while the moisture is about 50%.
The south side of Hai Van Pass: It has another name South Central Coast, which is not affected much by the Foehn effect. The climate is a bit warmer and a little cold in winter. 
1.3. Southern Vietnam
It includes
Bình Thuan Province
,
Tay Nguyen
, and
South Delta
. It is known for the tropical monsoon climate and subequatorial climate with abundant sunlight. The area has two main seasons: the dry one (from May to November) and the rainy one (from December to April). During the year, the temperature is much stable than other reasons in Vietnam.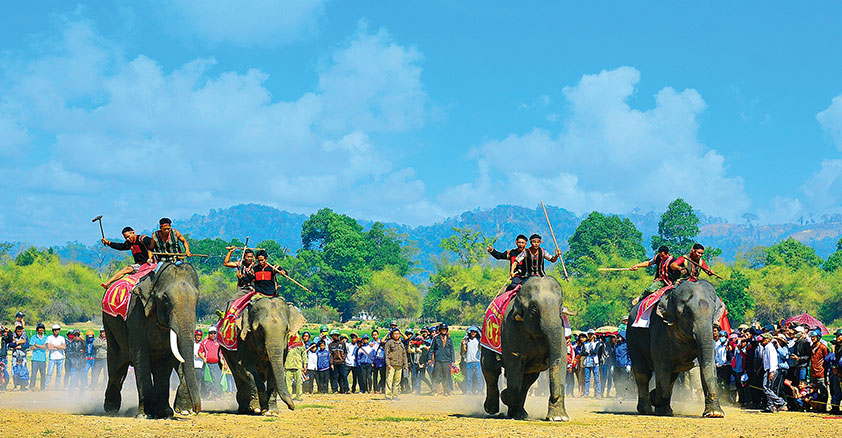 2. Table of temperature in some big cities
| | | | | |
| --- | --- | --- | --- | --- |
|   | January - March | April - June | July - September | October - November |
| Sapa | 11 to 16 °C |  20 to 25 °C | 23 to 25 °C | 13 to 20 °C |
| Hanoi | 20 to 23 °C | 25 to 35 °C | 30 to 36 °C | 22 to 29 °C |
| Hue | 23 to 28 °C | 30 to 35 °C | 32 to 35 °C | 24 to 29 °C |
| Nha Trang | 26 to 30 °C | 31 to 34  °C | 34 to 32 °C | 30 to 27 °C |
| Dalat | 24 to 26 °C | 19 to 25 °C | 24 to 27 °C | 25 to 27 °C |
| Ho Chi Minh | 25 to 28 °C | 29 °C | 28 °C | 27 °C |

Up to the weather and the kind of experience you would like to take part in, choose yourself the most suitable time when to travel to Vietnam.

3. Suggestions and Vietnam tour guides
3.1. Vietnam top places to visit in any season
If you do not have many choices when to travel to Vietnam, you should visit the best places to travel in Vietnam for any season. Some areas famous for nice weather all over the year are Southern relaxing areas and resorts such as Mui Ne, Phan Thiet, Tan An, Tra Vinh or Pleiku (Buon Ma Thuot), Dalat in Tay Nguyen. You can enjoy the comfortable temperature and have the time of sunbathing on the white sandy seashore or admire the magical beauty of the scenery there.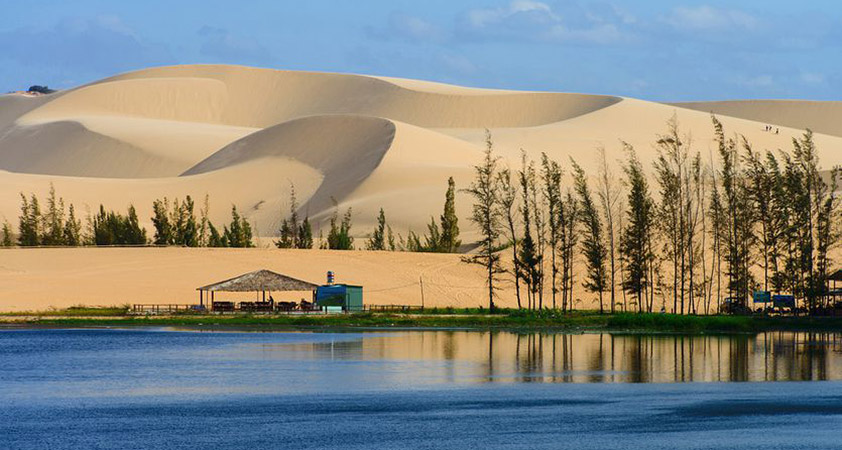 3.2. Medication preparation when planning a trip to Vietnam
For any time
when to travel to Vietnam
, you are supposed to get vaccinated against infectious diseases before your 
Vietnam travel tour
. To visit a tropical country, there are some suggestions for precaution: Protect yourself from mosquitos by covering the complete body or bringing along mosquito repellents. As for clothes, use soft items, cardigans, sunglasses, hats, sunscreens, and comfortable shoes.


3.3. Other Vietnam holiday tips
When you reach
Vietnam travel destinations
, you will see there are not many people who can speak English or French. Then prepare yourself a mobile phone application. Moreover, pay attention to the taxi price.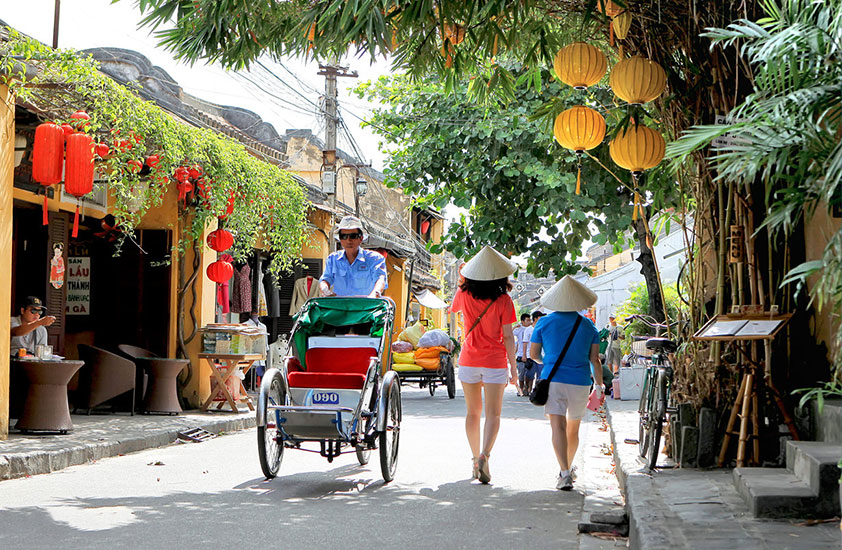 These pieces of information above are worth consulting when choosing
when to travel to Vietnam
, from which you can modify up to your intention and desire. It is much more important for whoever has a
holiday in Vietnam
for the first time.
Contact us
for more useful information and suggestions.
Please refer to the Top Best Selling Tours this year:
ONLY WITH US : 100 % MONEY BACK GUARANTEE within 10 days from the date of booking if not satisfied.
For further information, or simply a free quote, please
contact us
at any time via our email:
info@galatourist.com
, our experienced consultants will reply to you within 48 hours.
Sincerely yours & see you soon!
GALATOURIST
since 2005.