Places to visit in Vietnam for 15 days itinerary
If you are planning to visit Vietnam for 2 weeks, let us help with the detailed itinerary of Places to visit in Vietnam for 15 days itinerary. Vietnam is a beautiful country to explore.
Places to visit in Vietnam for 15 days itinerary

If you are planning to visit Vietnam for 2 weeks, let us help with the detailed itinerary of Places to visit in Vietnam for 15 days itinerary. Vietnam is a beautiful country to explore. Spending 15 days in Vietnam will be enough for you to meet friendly people and enjoy great food as well as every amazing thing and exciting activity in this S-line country. In this article, we will provide a recommended schedule for your 15-day Vietnam itinerary.

Below is our recommended itinerary for you: A detailed schedule for 15 days in Vietnam Itinerary:
Day 1: Arrive at Hanoi
Day 2: Hanoi one-day tour
Day 3: Hanoi -Mai Chau -Trekking/ Biking to village
Day 4: Mai Chau - Ninh Binh - Trang An
Day 5: Ninh Binh - Halong Bay - Overnight on cruise
Day 6: Bai Tu Long Bay - Hanoi
Day 7: Flight to Hue
Day 8: Hue one-day tour
Day 9: Hue - Danang - Hoi An
Day 10: Hoi An one-day tour
Day 11: Explore Hoi An
Day 12: Hoi An - Danang - Flight to Ho Chi Minh City
Day 13: Discover Mekong Delta
Day 14: Explore Ho Chi Minh City
Day 15: Ho Chi Minh departure and finish your trip
Now, let's see what is waiting for you to explore this beautiful country.

Day 1: Arrive at Hanoi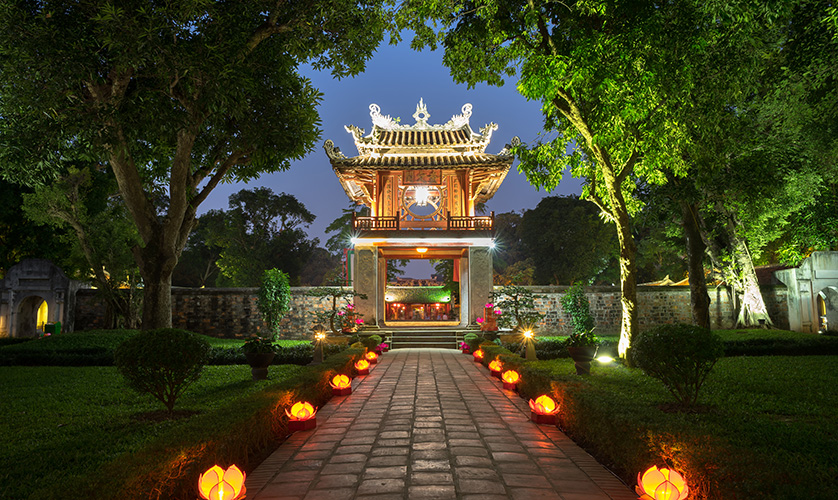 15 days Vietnam itinerary - First day Hanoi. Depending on what time you arrive in Hanoi, you will know how to arrange your schedule for the first day here. To transfer from Noi Bai airport to the city center, you have several options. The first one is that you can take a bus at the bus stop at the airport. The second one, you can take a taxi right outside of the gate. If you land in the morning, you can transfer to your hotel, check-in, and then explore Hanoi in the afternoon. If you land late in the afternoon or in the evening, you don't have many options other than relaxing and getting ready for the next day.
However, who doesn't get excited when they first come to a new country? We bet you would love to go out, see new things, and find out what's interesting for you. Therefore, we recommend some activities you might enjoy on your first day in Vietnam. Other than sightseeing, there are some kinds of traditional performances that you cannot find anywhere else than in Vietnam.
The first one is the
Water Puppet Show
which plays in
Thang Long Water Puppet Theatre
or Lotus Water Puppet, both of them are near
Hoan Kiem Lake
. In this show, puppets are moved under the water with folk music in the background, presenting ancient tales in the Vietnamese countryside. After the show, you can buy souvenir puppets at the theater. The other show we recommend is the Tu Phu (Four Palaces) Show. This is about ritual spirit practiced in the Vietnamese religion. However, this show only runs on Thursday and Saturday every week.

Day 2: Hanoi one-day tour
To start the second day in Vietnam, you should have the famous Vietnamese beef noodle soup (pho bo) for breakfast. Next, there are many tourist attractions in Hanoi that you would love to visit. You can begin with the
Temple of Literature
(Quoc Tu Giam). This is the first university in Vietnam which was founded in 1076 to educate Vietnam's royalty, mandarins, and also the members of the elite. The Temple of Literature is one of Hanoi's most picturesque attractions with an excellent example of traditional-style Vietnamese architecture.
Visiting the Temple of Literature you will see many turtle steles, courtyards, passageways, and pavilions along with historic buildings from the Ly and Tran dynasties. These buildings now become a memorial to education and literature where you can find the names of successful graduates engraved on a stone stele.
Leaving the Temple of Literature, you can come to visit
Ho Chi Minh Mausoleum
. Ho Chi Minh Mausoleum is the final resting place of Uncle Ho, the most iconic leader of Vietnam. His body is preserved in a glass case inside the Mausoleum. It was constructed in 1973 and was first opened to the public in 1975. Visiting Ho Chi Minh Mausoleum, you should dress with respect, just like when you step into a pagoda. However, visitors are not allowed to bring their bags and cameras inside because of tight security. Additionally, you have to move quickly as the place is constantly busy. You also need to check with your hotel before getting there if it is open that day.
For lunch, we suggest you should try Bun cha, one of the most famous dishes in Hanoi. Then continue with
Tran Quoc Buddhist Pagoda
which is located next to
West Lake
, the largest lake in Hanoi.
Tran Quoc Pagoda
has a history of more than 1,500 years, so it is considered to be the most ancient pagoda in Hanoi. Visiting the pagoda, you can admire the beautiful architecture along with the picturesque West Lake.
Another destination that you cannot miss is
Hoan Kiem Lake
. This peaceful and quiet place is a perfect spot to observe the daily activities of Hanoians. Contrary to Hoan Kiem Lake, the Old Quarter right next to it is a bustling place with beer streets, bars, and pubs where you can find a lot of travelers as well as locals relaxing and having fun. It is definitely a great spot to enjoy the exciting nightlife in Hanoi.
Don't hesitate to take a Hanoi city tour to make your 15-day Vietnam itinerary amazing!
Check availability at GalaTourist.

Day 3: Hanoi - Mai Chau - Trekking/ Biking to village
Mai Chau
is a mountainous area in Vietnam that is famous for its green rice paddies and the outstanding beauty of nature. This place is home to Thai and Hmong ethnic minority groups. Visiting Mai Chau, you will be able to explore the spectacular scenery, visit remote areas and experience the life of these hospitable villages (
Lac village
).
Mai Chau
is about 140 km from Hanoi then it takes you about 3 hours on the bus to get there. If you are adventurous, you can rent a motorbike and ride there. Either way, you should get up early, have breakfast before starting your journey, and make sure to have a shortstop for refreshment. Once you get to Mai Chau, you might need a local guide and then ride to
Xa Linh Village
or Tra Day village, have lunch there and then head to Hang Kia, where you can start your exciting trek to beautiful villages.
The first one you could do is a trek from
Hang Kia
to Van Village. Van Village is the home of a white
Thai minority
group, it is a beautiful village for you to explore. The first thing you do to get there is to spend one hour walking on the jungle trail. Then you will walk down the hill, passing beautiful farms and terraces while enjoying stunning mountain views with an expansive valley. Afterward, you will cross a small river and reach the village. You can spend some time observing the daily life of the locals here which will be exciting for you.
For the next trek from
Van Village
to
Buoc Village
, it will take you about 3 hours, so you can choose to do it the first day, or wait until the next day.
Buoc Village
is another home of White Thai minority people. To get to this scenic village, you will go uphill and downhill through farms, terraces, and bamboo forests. If you decide to do it the next day, you can spend the night in one of the local homes in Van Village.

Day 4: Mai Chau - Ninh Binh (another name is Halong Bay on Land)
After breakfast, transfer to
Ninh Binh
(150km from Mai Chau). Ninh Binh is surrounded by a stunning landscape of lush green paddy fields and striking limestone outcrops with main tourist sites including Tam Coc, Trang An, Bich Dong,
Bai Dinh Pagoda
– The biggest Pagoda in Vietnam,
Van Long Nature Reserve
, and
Cuc Phuong National Park
, Hoa Lu Ancient Capital – Oldest Capital of Vietnam, Phat Diem Stone Cathedral, Thung Nham Bird Garden…
Some tourist places in Ninh Binh are within 12 km of the city center, so bicycle or motorbike areas are also to get around between destinations.
Cycling activities is the best way to really appreciate the striking scenery along the roads.
In the afternoon, take a boat trip to Trang An. Trang An is known for its scenic waterways and you can hire a boat here and float along the Sao Khe River.
This will take you through other-worldly caves and you can take in the scenery and also visit the caves and temples at the same time.
Boat trips usually last around 2 hours and Trang An is around 7 kilometers from Ninh Binh town so you can easily visit for the day.
>> Read more:
Things to do in Ninh Binh

Day 5: Ninh Binh - Halong Bay - Overnight on cruise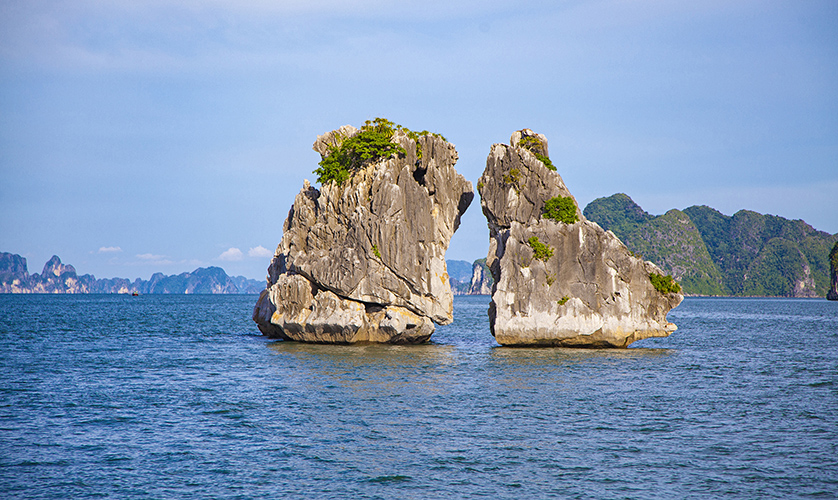 After breakfast, the transfer to
Halong Bay
was declared to be a UNESCO World Heritage Site in 1994 and also voted a Wonder of Nature by the New7Wonders Foundation. This is definitely a place worth visiting and you should spend one night in this world-famous bay. The best way to experience this picturesque landscape is by boat or cruise. As Halong is a popular destination for travelers, booking a Halong Bay cruise is easy and available at every hotel and travel agency in Vietnam.
Based on your budget, you can book a luxurious cruise or a diesel-powered junk to explore Halong Bay. However, we recommend the cruise because it offers you the best experience in
Halong Bay
. You should stay overnight on the cruise to enjoy plenty of beautiful landscapes in this bay. Most cruises include English-speaking guides, meals, and onboard services. It makes your trip more convenient.
Once your cruise is booked, you just need to get ready in the morning, and then you will be picked up for the adventure at about 8 am. Visiting Halong Bay, you will be able to discover the beautiful scenery of many islets, beaches, grottoes, and villages. Also, the cruise will offer stops for outdoor activities such as swimming, fishing, snorkeling, or kayaking.
There are some islands on the list of stops, and the most popular one is
Cat Ba Island
. This island is famous for its floating villages, hotels, restaurants, and bars. It is also where you can find some endangered animals, such as black giant squirrels and civet cats. Another beautiful island is Dau Be Island which is a prominent swimming and diving spot. Bo Hon Island is where you can find the most famous caves in Halong Bay. To visit these stunning caves, you need to row a boat at low tide.
The most exciting experience for you on this trip is an overnight stay on the cruise in the middle of the Bay. You can have dinner on the cruise and then enjoy the rest of your night in a peaceful quiet place.

Day 6: Bai Tu Long Bay - Hanoi
Waking up early in the morning by the sounds of the sea, you will be able to see the beautiful sunrise in the bay. After breakfast, you can visit
Bai Tu Long National Park
which is a treasure of the biosphere on the northeastern coast of Vietnam.
Bai Tu Long National Park
's main area is Ba Mun ecology-island which is located in the
Bai Tu Long Bay
. It is the repository of a lot of genetic samples regarding rare animals and plant species recorded in the Red Book. There are plenty of rare and endangered animal and plant species living in the forests and water areas of the
National Park
. They have high values for the conservation of genetic resources.
Apart from the
National Park
, the highlight of
Bai Tu Long Bay
is the Bat Cave Valley which includes 10 hectares of mangrove forests. Flowing seawater through underground caves helps create the diversity of plant and animal species here. Additionally, this is a reserved area of natural landscape along with culture, and history as archaeologists discovered the existence of the ancient Vietnamese here.
Leaving Halong, you will need to have a good sleep before the exciting adventure to Central Vietnam on the 7th day of the Vietnam journey.
Let's find the best cruise at GalaTourist.

Day 7: Flight to Hue
You should catch a morning flight to Hue from Noi Bai airport. It will take about 1 hour and 20 minutes to get there. After you land in Hue, check-in at your hotel and list the things you should do while you are here, so you will not miss and regret anything.
Hue
was not only the national capital but also the political, cultural, and religious center of Vietnam under the
Nguyen dynasty
. This city has an elegant setting on the bank of the
Huong River
(Perfume River) and is one of the
World Heritage Sites
recognized by UNESCO.
Visiting Hue
, you will be amazed at how small and quiet this city is along with the magnificent architecture of the historical destinations such as citadels, palaces, royal tombs, pagodas, and temples. All of them were built under the Nguyen dynasty. Additionally, Hue has preserved its cultural heritage which includes music, the arts, and other traditions. This is considered the best place in Vietnam to get a sense of imperial life because of its well-known historical values.
If you are a history-lover, a
Hue city
tour is the perfect idea for you. It represents the outstanding demonstration of the vanished Vietnamese feudal empire's power. There is a complex of monuments, tombs, and pagodas in the city that has attracted tourists from all around the world. Besides, Hue also has beautiful beaches (Thuan An and Lang Co) for you to bathe and lie under the sun. In addition to that, there are several mineral hot springs (Thanh Tan) where you can relax after a long day.
Another thing that you cannot miss when you visit Hue is food. Hue is famous for a diversity of traditional food which you cannot find anywhere else with the same flavor. All the dishes are not only to satisfy basic needs but also they are forms of art. One of the popular dishes in Hue is rice with baby clams (com hen). It is very simple and cheap but offers the delicious flavor of rice and herbs, mixed with buttery, sour, spices, grease, and baby clams. You should also try other famous dishes such as rice pastry with meat and shrimp (banh bot loc), sweet sticky rice wrapped in leaves (banh la), rice vermicelli with grilled meat (bun thit nuong), rice vermicelli with beef and pork (bun bo gio heo) and sweet soups (che) while you are here.

Day 8: Hue one-day tour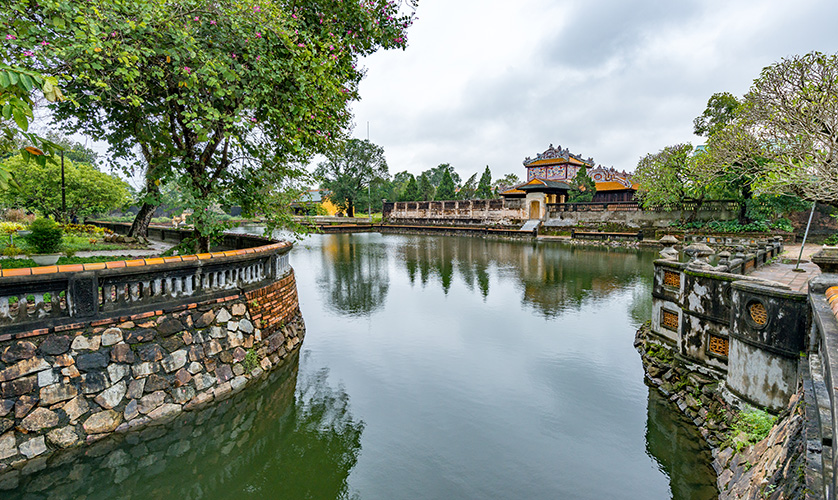 You can start to explore Hue by a visit to
Thien Mu Pagoda
(Pagoda of the Celestial Lady).
Thien Mu Pagoda
was built on a hill overlooking the Perfume River. It is only 5km from the city center, not too far for visitors to approach. You can get there by boat, by car or by motorbike.
The oldest pagoda in Hue has its own legend. When Nguyen Hoang (the first Lord of the Nguyen dynasty) was sent to Central Vietnam to rule this area, he needed to find a site for settling down. One day, when he was riding his horse along the Perfume Riverside, he saw a small hillock that looked like a dragon turning its head back. The local people told him a story about an old lady in a red blouse and green trousers who came here every night, saying that a true Lord would come to this place and build a pagoda which made the prosperity of the country. That's the reason why it is called
Thien Mu pagoda
(Pagoda of the Celestial Lady).
By the time, with the development, prosperity, and spread of Buddhism, the
Thien Mu pagoda
was rebuilt on a larger scale with many great architectural structures. In 1710, a big bell was installed here. With its enlarged scale and natural landscape, Thien Mu pagoda was said to be the most beautiful one in the area at that time. Visit the Pagoda today, you can see its unique architecture surrounded by a garden of flowers and plants. At the end of the garden, you will see the Tower of the Superior Buddhist monk Thich Don Hau. He is the most famous head of Thien Mu Pagoda who devoted his whole life to promoting Buddhism.
Next stop, we recommend the
Imperial City of Hue
(the Hue Citadel). Famous for its poetic and charming beauty, Hue was chosen to place the Citadel where royal families can live. The Imperial City of Hue is an enormous complex of executive bureaucracy. It is enclosed within a square fortress. Each of the four walls is about 2 kilometers long and there is a wide moat on the outside. There are temples, palaces, offices, gardens, and residences inside the Citadel. It takes about 2 hours to walk through the Imperial City because of the sheer size and also, and there are quite a few different sections that are worth looking at.
The most important bit is the Purple Forbidden City which is located in the middle of the Citadel. It was where the emperor and his closest confidants lived and worked. No one could access the place at the time. Today, of course, tourists can walk through and see what remains in it. All the buildings in
the Imperial City of Hue
have been restored over the years. Visiting the
Hue Citadel
, there are plenty of historical marks for you to see, you will also be told about the history of the Nguyen dynasty while taking a tour around it.
To fulfill your day tour in Hue, don't forget to enjoy some of the foods that we mentioned above. Then get some rest in the evening, or you can take a short trip on the
Perfume River
by boat.
Find the best tour at GalaTourist

Day 9: Hue - Danang - Hoi An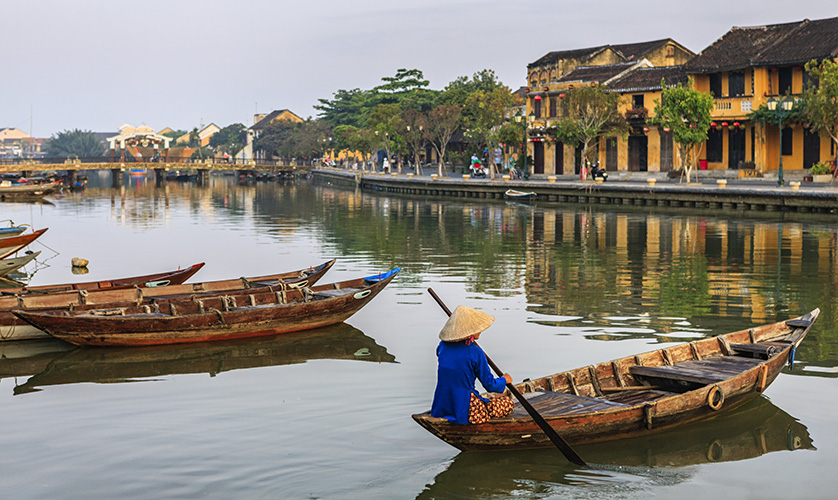 From Hue, you have two options to transfer to
Hoi An Old Town
. As there is no airport or train station in Hoi An, the first option is to travel by bus from Hue to
Hoi An
which takes 4 hours. The second one is to travel by train to Da Nang (which is only 20 km from Hoi An) and then travel by bus to get there. This option takes you longer to get there (about 5 hours), however,
Da Nang
is a beautiful beach city, so it is a perfect stop for you to relax, it also offers a lot of services for tourists.
Once you get to Hoi An, you will be amazed at this
World Heritage Site
.
Hoi An Old Town
is a well-preserved example of a trading port in Southeast Asia from the 15th to the 19th century. It is said to be a living museum of old-town architecture with notable heritage buildings such as Chinese temples, a Japanese design bridge with some pagodas, wooden shophouses, and old canals. Not only the buildings but also the streets reflect the influences of both indigenous and foreign architecture.
Hoi An has been preserving and restoring its charming roots successfully even though large-scale trading had been moved. One of the best destinations to spend the night is Hoi An Riverside which is lit by old-fashioned lanterns. Visiting Hoi An, you can enjoy its great food, have fun shopping, meet friendly people and enjoy the cozy atmosphere.

Day 10: Hoi An one-day tour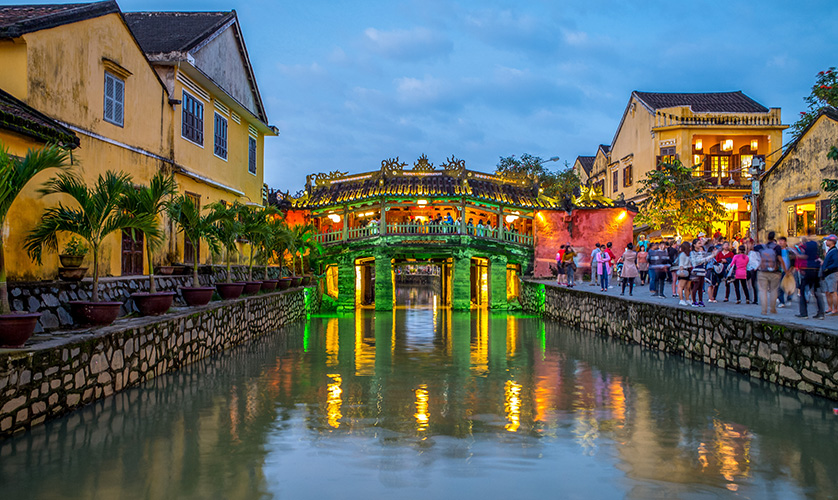 Hoi An's Old Town is a small town so you can get around it on foot. The traffic here is very light too. Only bikes and motorbikes are allowed on some streets, some others even allow only pedestrians. You can also explore the beauty of Hoi An by getting a cyclo-riding tour instead of going on foot. That's why Hoi An is very attractive and inviting for most travelers to Vietnam, especially for those who want to escape from the bustling and vibrating big cities.
A lot of buildings in this Old Town were built more than 100 years ago and they feature strong Chinese influences. If you take a look at the wooden signboards, you can see them bearing the company names which are carved and gilded in Chinese characters. Many of the old shops have been converted to modern businesses with care to preserve the past. All the businesses today include tailors, souvenir shops, restaurants, cafes, and art galleries aimed at tourists. All the major attractions or landmarks of Hoi An are located near each other, so you can easily walk there while looking around the streets.
Although Hoi An is a small and quiet town, you can find a lot of locals and Western cuisines at the restaurants. Many of these restaurants have big lounge bars on the ground floor and eating sections with balconies upstairs. You can choose to have Western food if you miss your home food, however, you will be pleased if you try Vietnamese specialties while you are here too.
Some restaurants also offer
Hoi An Cooking Class Tour
in English. You will be taught to cook 3 to 5 dishes and eat them afterward. After dinner, you can enjoy the nightlife or go back to the hotel to get some rest. The nightlife here is not special and hectic, given Hoi An is a very quiet place. However, you can still find some bars to have a few drinks or play games. Some bars here even start at 4 p.m., but in general, things get quiet after 10 p.m. That makes Hoi An a perfect destination for visitors who want to relax in a quiet and peaceful place.

Day 11: Explore Hoi An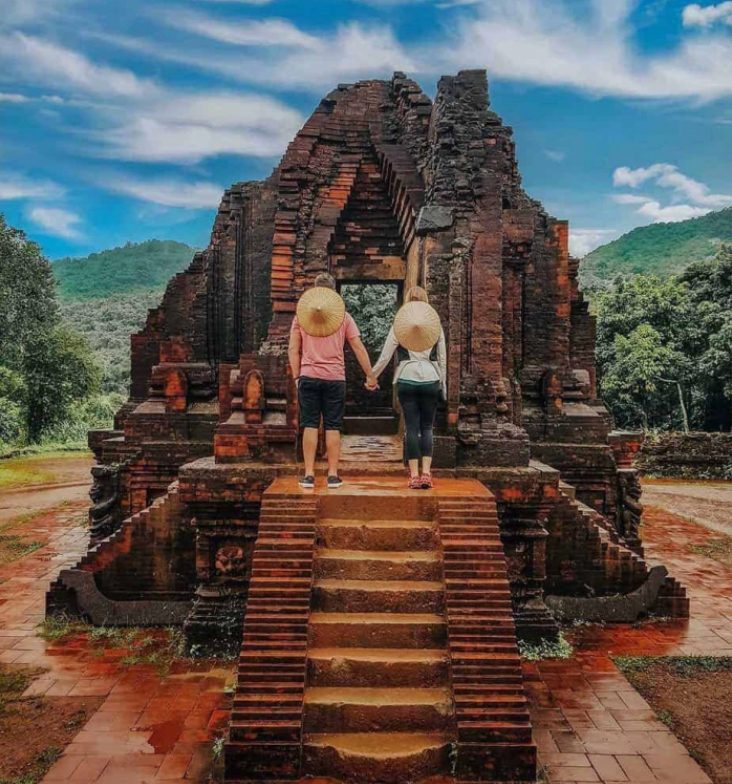 On the 11th day, you can discover
My Son Sanctuary
in Hoi An, which is well known as a collection of Champa ruins. It used to be a political center and royal burial ground with a complex of structures devoted to Hindu gods, built by the Champa Kingdom. Similar to other historic sites, My Son Sanctuary was destroyed by wars and then renovated by the French in 1898.
What makes My Son attractive to tourists is its architecture. The first Hindu temple was made of wood and then rebuilt with red bricks and sandstone. The most important constructions here are the monuments. All the temples were inspired by the conception of Mount Meru, the home of Hindu gods at the center of the universe. Visiting My Son Sanctuary, you will be able to see insight into Cham's religious and political thought through the technological sophistication of engineering skills. Also, it will remind you of the great Angkor Wat in Cambodia.
Another option is
Cam Thanh Village
which is located about 5km from Hoi An Old Town. This village is famous for its water coconut forest and the craft of making coconut paintings. Also, Cam Thanh is a peaceful village that provides seafood products to the region. Visiting the village, tourists will easily join the farmers in preparing and fertilizing the land, and get to know the village's traditions and daily life.
One of the most exciting activities that you can do is to learn some fishing techniques and how to paddle the bamboo basket boats. In addition to that, you can explore the water coconut forest and get some coconut fruit. Also, there are many restaurants here that offer cooking classes, so you can have more fun trying delicious food after cooking. Finish day 11, you should get back to the hotel and get ready for another flight the next day.

Day 12: Hoi An - Danang - Flight to Ho Chi Minh City
As there is no airport in Hoi An, you need to transfer to Da Nang to take a flight to
Ho Chi Minh City
. We suggest that you take a morning flight, check in at the hotel after landing, and then enjoy the attractions and sightseeing in
Ho Chi Minh City
in the afternoon. Additionally, there are some popular traditional performances that you might be interested in, such as the A O Show. Otherwise, you can just rest in the hotel and have a good sleep to be ready for the exciting trip the next day.

Day 13: Discover Mekong Delta
Ho Chi Minh City is so close to the
Mekong Delta
which is famous for the region's diversity. There are many towns in the delta with facilities for tourists, but most travelers choose to visit
Can Tho
as it is the delta's biggest settlement. You need to get up early in the morning to take an early bus to
Can Tho
. The best way to explore this area is to take a boat ride in the river and see the daily activities of the locals.
Can Tho
also have the most famous floating market in Southern Vietnam which is
Cai Rang market
? The market is 6 km from Can Tho city.  Once you get here, you'll see the extremely crowded trading atmosphere of the Cai Rang floating market. As the market is one of the main trading centers in the
Mekong Delta
, this is where you can find a wide range of products catering to the local daily lives. The prices of products are reasonable as it is a wholesale market. You can easily buy fresh fruits harvested from nearby farms and other processed specialties at cheap prices.
The travel time from
Can Tho
to Ho Chi Minh City is about 4 hours by bus. So you need to make sure that you can catch the last bus back to Ho Chi Minh in time.

Day 14: Explore Ho Chi Minh City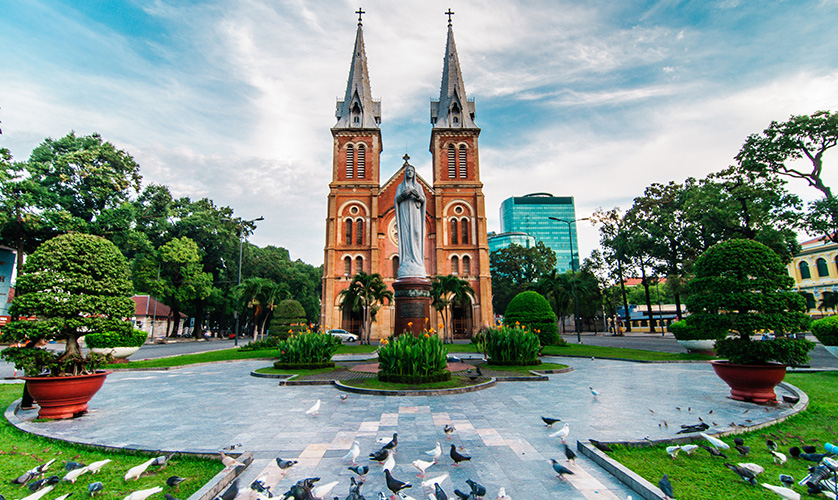 Many Ho Chi Minh City attractions have French colonial architecture, such as the
Notre Dame Cathedral
. This is a mini version of the Notre Dame de Paris-a cathedral church in Paris and is located in a quiet corner of this bustling city. Visiting the Cathedral, you can see a Virgin Mary statue standing in front. Saigon Notre Dame Cathedral is not only a tourist attraction but also serves as a religious institution for the local people. Be aware that when you visit here, dress appropriately and try not to disturb the worshippers.
Right next to the
Notre Dame Cathedral
is the
Reunification Palace
which was the base of Ngo Dinh Diem-the first President of the Republic of Vietnam. This Palace has five levels. The basement has a war room that has original maps on the walls, tunnels, and a telecommunications center where the equipment is still on display today along with the war propaganda materials. Also, there's a card-playing room on the third floor and a casino on the fourth floor. Especially, the rooftop was designed to be a heliport.
In the evening, you can experience the exciting nightlife in Ho Chi Minh City. There are two famous walking streets (Nguyen Hue and Bui Vien) with many bars and pubs which have attracted many travelers as well as locals. Don't forget to enjoy street food while you are here too.

Day 15: Ho Chi Minh departure and finish your trip
For the last day of your trip to Vietnam, you can just walk around the city, taste Vietnamese food and enjoy every last moment that you have before leaving. Or you can buy some souvenirs for families and friends in the
Ben Thanh market
.
With the detailed plan for your 15 days tour in Vietnam, we hope you can have the best experience in every land of Vietnam and enjoy the beauty of our country. Have wonderful
holiday packages to Vietnam
!
ONLY WITH US : 100 % MONEY BACK GUARANTEE within 10 days from the date of booking if not satisfied.
For further information, or simply a free quote, please
contact us
at any time via our email:
info@galatourist.com
, our experienced consultants will reply to you within 48 hours.
Sincerely yours & see you soon!
GALATOURIST
since 2005.